'Queen of the Hills' Darjeeling is situated in the northern part of West Bengal. This little hill station has picturesque sceneries to make an everlasting place in your hearts. Darjeeling is nestled among the grand ranges of Mount Kanchenjunga (K2). From all around the town, you can catch glimpses of mountains.
This little town was originally set up by the British during the British reign over India as a health resort for the British soldiers. Over time, it developed into a tourist destination and it now attracts a great number of tourists around the year due to its mesmerizing beauty.
Darjeeling is a perfect getaway for spending a memorable vacation with your loved ones or your family. The weather around the town is suitable for a visit throughout the year. There are a lot of things to do and places to visit in this part of West Bengal.
It is the land where a great quality of muscatel flavoured tea is produced which is then exported to many countries due to its excellent quality. And let's not forget the toy train rides of Darjeeling, which goes through tea plantations stretched over vast acres of land, and many other places to visit in Darjeeling!
Darjeeling is the town which is still not affected by the hustle-bustle of advancing technology and pollution. A trip to this magical hill station will be a memorable one and will help you to brush away the fatigue from your mundane routine. You can even combine your trip to Darjeeling along with a trip to Gangtok since it is only a four hours ride from Darjeeling.
Here are a few places to visit in Darjeeling that one must visit at least once in a lifetime.
Tiger Hills
It would be unfair to begin the list of the 'places to visit in Darjeeling' with anything other than the Tiger Hills. Tiger Hills is what you're looking for if you seek to relax and spend time inquietude. These are most famous for the breathtaking view that it has to offer of the sunrise. It is Darjeeling's highest point with an altitude of about 8,378 feet.
Visiting them during the right season is very important so that you don't miss out on anything. The best time to visit the Tiger Hills is from March to April and mid of October to December to catch the awe-inspiring sight of a replete snow cover. You can hire a taxi or travel via foot to reach the Tiger Hills as per your convenience. If you are lucky enough, your taxi driver can also act as your guide!
Passenger Ropeway
The Darjeeling Cable Car begins from a distance of just 3 kilometres from the Chowk Bazaar. This is Asia's largest ropeway covering a distance of about 8 kilometres in 45 minutes. What makes it a must-visit destination is the splendid view from the ropeway. You get to see the Himalayan ranges, lush green tea gardens, and mountain peaks shrouded in clouds.
Bring your kids to this mesmerizing journey and watch them get immersed in nature's beauty. The Darjeeling Ropeway system is also India's first cable car system set up in the year 1968. The journey begins from Singamarj and ends at the Singla Bazar. It is so beautiful that you'd want to visit it over and over again and would want to tell all your friends about it. It's possibly the best way to catch a glimpse of the many vistas Darjeeling has to offer.
Ghoom Monastery
If you love peaceful places surrounded by nothing but trees, then Ghoom Monastery is one such place to visit in Darjeeling that you must visit. It is the oldest monastery in the region. This place is so peaceful that you'd wish to stay here forever.
Outside the monastery are Bhutiyas, or vendors selling woollen clothes and eatables. The only demerit of this place is its size, which is quite small. However, apart from its small size, it has some great views of mountains to offer. You can even visit the roofs of the monastery for an even better view. It is located close to the Ghoom station, which makes it easy to visit. You can visit it with no prior planning since it will take only about forty-five minutes to visit it.
Aloobari Gompa Monastery
It is located close to the Darjeeling town, which makes it easily accessible. The monastery was established in the year 1914, due to which it is a loved site of history lovers. The gates of the monastery have two statues of a lion as a symbol of protection. The monastery has Lord Buddha's statues along with a model of Padmasambhava, who was involved in spreading Buddhism in various regions. The walls of the monastery have carvings which depict the life of Lord Buddha in a beautiful manner.
Shrubbery Nightingale Park
A public park meant for relaxation and recreation. You get to look at some amazing views of Mount Kanchenjunga while taking a stroll here.
Various cultural programs are held here during different times of the year. If you are lucky enough, you may even catch the shooting of some movie since a lot of Bollywood movies are shot here. The park was damaged in an earthquake in the year 1934. However, it was redeveloped and was opened to the public again. This park has some great scenic views of trees, waterfall, and mountains to offer. It will take you a long time to get over it!
Toy Train Ride
This happens to be one of the most sought-after activities by families. Covering a great amount of surface, this ride will take you to some magnificent views of the Kanchenjunga Mountain, and pine trees. What adds excitement to take a ride on the Toy Train is the fact that UNESCO has called it 'the most outstanding example of hill passenger railway'.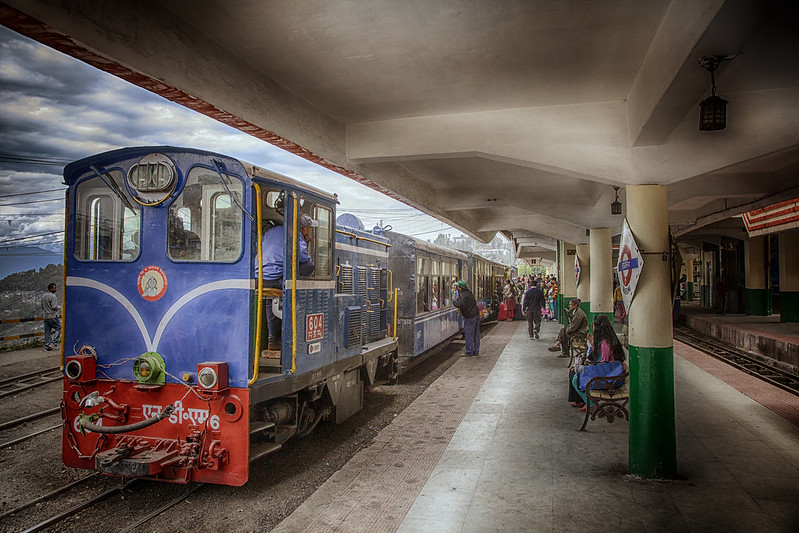 You will need to be patient during the journey since the train moves at a slow pace. You can sit back and savour the sights along the way. It will give you insight into other places to visit in Darjeeling. Take a ride on the Toy Train Ride and get ready to be surprised by the splendid views that it has to offer.
Padmaja Naidu Himalayan Zoological Garden
Padmaja Naidu Himalayan Zoological Garden is one of India's best zoo and also one of the best places to visit in Darjeeling. It is a home to a variety of endangered animals like the Siberian Tiger, Ring-Necked Pheasant, Red Panda, Snow Leopards, and much more.
The zoo is well maintained and has a café inside it. It is situated on a hill which has to be walked in order to reach the zoo. Thus, it is, even more, a treat for nature lovers since the pathway to it is wonderfully surrounded by trees. The zoo has an aquarium inside, as well.
Japanese Peace Pagoda
One of the most peaceful places to visit in Darjeeling. A 'Pagoda' is a Buddhist temple, commonly in the form of a many-tiered tower. The Japanese Peace Pagoda is situated on top of hills making it even more beautiful. It was built as early as in the year 1972 under the guidance of Nichidatsu Fuji, who even laid its foundation stone.
The temple showcases all the four avatars of Lord Buddha. People love visiting this place due to its uniqueness and peace.
During the daily evening pooja, the visitors are asked to join it and are handed a hand drum to do so. The Pagoda was built with the aim to unite people from all walks of life. It even succeeds in doing so to the most extent. The pathway to the place is another scenic route, offering sights and sounds that include the Himalayan range and lush tea gardens. A walk on it will make a special place in people's hearts.
Joey's Pub
If you are looking for a place to spend an evening with some celebration, then Joey's Pub is the place meant for you. This well-designed pub is famous for its old British beer and drinks. The interior of this pub is covered in wood and framed pictures. The pub boasts of an old yet classy look.
What makes it even more exciting to visit this pub are the people from various walks of life. You will get to meet a lot of foreigners here. Also, if you are lucky enough, you can stumble across some famous Indian singer performing a little concert over here. Joey's Pub is the best place in Darjeeling to drink some good quality beer and relax.
Himalayan Mountaineering Institute
The Himalayan Mountaineering Institute is certainly to be added in the 'places to visit in Darjeeling' list. This is situated right behind the Darjeeling Zoo. Thus, you can plan a visit to it while visiting the zoo.
It was built to celebrate the success of Edmund Hillary in his conquest to climb Mount Everest. He was the first Director of this institute who used to teach mountaineering to all those who were interested. It now has grown into much more than just a simple mountaineering institute. The museum was established here which has artefacts related to mountaineering.
Apart from the museum, there is a restaurant, a tea parlour, and a souvenir shop. So, if you are thinking that visiting the Himalayan Mountaineering Institute would be a boring experience, then you are mistaken.
You can spot the foundation stone which was laid by the then Prime Minister Jawaharlal Nehru. Just like every other place in Darjeeling, this too has some great views of tea gardens and Mount Kanchenjunga. You can even sit on a chair and admire the vast stretches of mountains and green fields.
Other than these places to visit in Darjeeling, there are several other places to visit in Darjeeling which deserve a visit at least once in your lifetime like the Batasia Loop, the Happy Valley Tea Estate, Mahakali Temple, the village of Tinchuley. Apart from these, you can take part in various tours like biking tours, trekking tours, and a lot more.
Darjeeling is a land of wonders which has some great views to offer.
So pack your bags and head to this beautiful hill station called Darjeeling!