Book International and Domestic Flight Tickets with HolidayMonk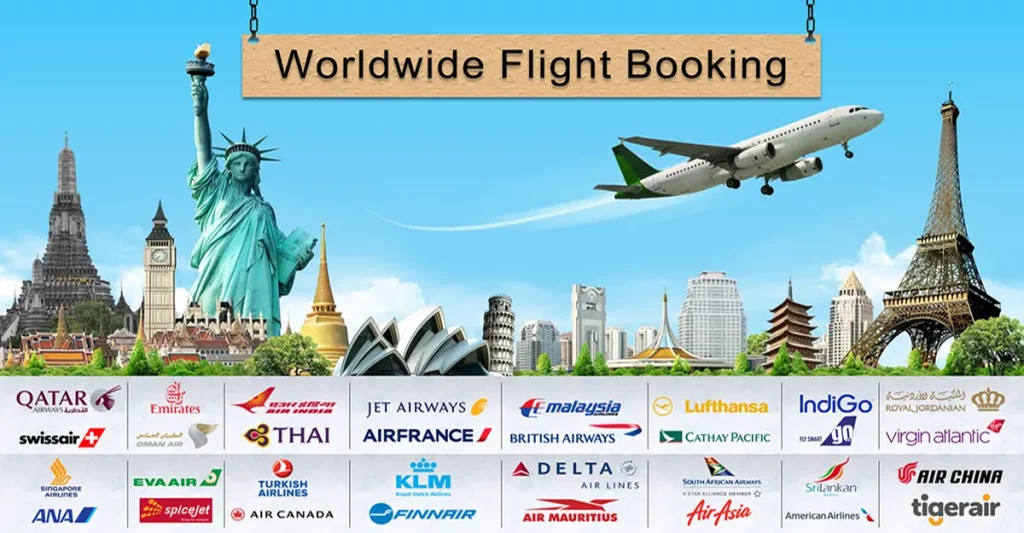 Popular Flight Routes
Domestic
International

---
Flight Booking
Humans have always been curious about exploring the unexplored and this element of human nature has fuelled our need to indulge in vivid travel experiences. Our quest to discover and innovate has always motivated us to travel further than ever and explore more than ever. Today, the advancement in aviation technology has facilitated global travel, enabling us to look beyond geographical boundaries as we travel across the world. Talking of India, the country has evolved as a tourism hub, attracting international and local travellers who wish to experience the rich culture, tradition, heritage and history that the melting pot of diversity has to offer!
Book Domestic Flights Ticket Across Cities In India
Whether you wish to make a booking for a flight to Delhi, flight to Goa, flight to Mumbai, flight to Bangalore, flight to Kochi, flight to Chennai, flight to Kolkata, flight to Hyderabad or you wish to book flights from Delhi, flights from Goa, flights from Mumbai, flights from Bengaluru, flights from Hyderabad or any other city HolidayMonk is here for you. HolidayMonk, more than anything else, aims to give you an overall rewarding experience that is way beyond just getting the cheapest flight tickets, best discounts and deals on air tickets, lowest airfare, flight offers and more.
Booking Domestic Flights On HolidayMonk
Whether it's the heavenly beauty of Kashmir, enchanting beaches of Goa and Kerala, the mesmerising Thar desert or the breath-taking Sundarbans, India has an endless list of tourist destinations that every travel enthusiast must visit.
To satisfy your wanderlust and explore the beauty of India, you've got to book your domestic flights for travel. And that's where every traveller's best friend – HolidayMonk steps in.
---
Benefits Of Booking Flights On HolidayMonk
Simple, Quick & Reliable Booking Process: HolidayMonk helps you search for flights and make flight bookings with just a contact. We ensure your data is protected while you make hassle-free bookings for all your trips.
Wide Range of Airline Options: If you're looking to book domestic flights to any destination in India, HolidayMonk gives you the freedom of choosing your desired airline, flight timing and more, from over 250+ airlines. Apart from domestic flights, you can also use HolidayMonk to book international flights. We have a range of domestic & international flights that you can choose from. Book your flights on HolidayMonk across multiple airlines such as Indigo, SpiceJet, GoAir, Air India, Etihad, Emirates, Qatar Airways, Singapore Airlines, Turkish Airways, Cathay Pacific, Air France, British Airways & many more. HolidayMonk offers you a plethora of options that you can pick from, enabling you to choose the airline and flight time that fits your needs.
One Booking Destination for the requirements for your Entire Trip: HolidayMonk is your one-stop booking destination, whether you're booking a flight for a domestic trip, international trip, leisure trip or even a business trip. You can relay on HolidayMonk for your flight bookings, hotel stays, restaurant bookings, tour & activities, car hires and lots more.
Amenities to Travel hassle-free: Enhance your travel experiences by availing of special amenities on flights. You can purchase your preferred seat, in-flight meals, get excess baggage allowance and travel insurance when you book with us.
Select HolidayMonk for a flight or hotel of your choice
Detailed Information: Apart from the basic information about your flight booking, HolidayMonk also helps you with important information about fare rules, check-in, cabin baggage allowance, seat selection, lounge facilities and meal options. Make your flying experience hassle-free and memorable with HolidayMonk.
Our Travel & Lifestyle Blog: Check out our blog to know more about all the picturesque locations and travel destinations across India. Our blog will awaken the travel enthusiast in you and help you create memories that you'll cherish for a lifetime. Make the most of our programme by booking your domestic and international flights with us, let your mind wander a little before you quench your wanderlust! So, wait no more and book your flight to your favourite destination and get rewarded with HolidayMonk to fulfil all your travel and lifestyle aspirations.