Travel Guide: Discover The Real Jaipur
Rajasthan is famous for its royal heritage. Formed by the union of many princely states ruled mainly by Rajputs. Rajasthan boasts of magnificent forts, grand palaces, marvellous step-wells, colourful markets and vast golden deserts.
To experience the traditions and colours of its magnificent past, a visit to the Pink City is a must. Jaipur is full of surprises and unique experiences that would appeal to all kinds of travellers – the lovers of art, culture, history or the persons with an adventurous soul.
Jaipur offers a host of things to do – places to witness, history to explore and cuisines to relish. Not only does it have a spectacular historical past to marvel at, but it also has several hidden gems and unconventional, lesser-known things to do.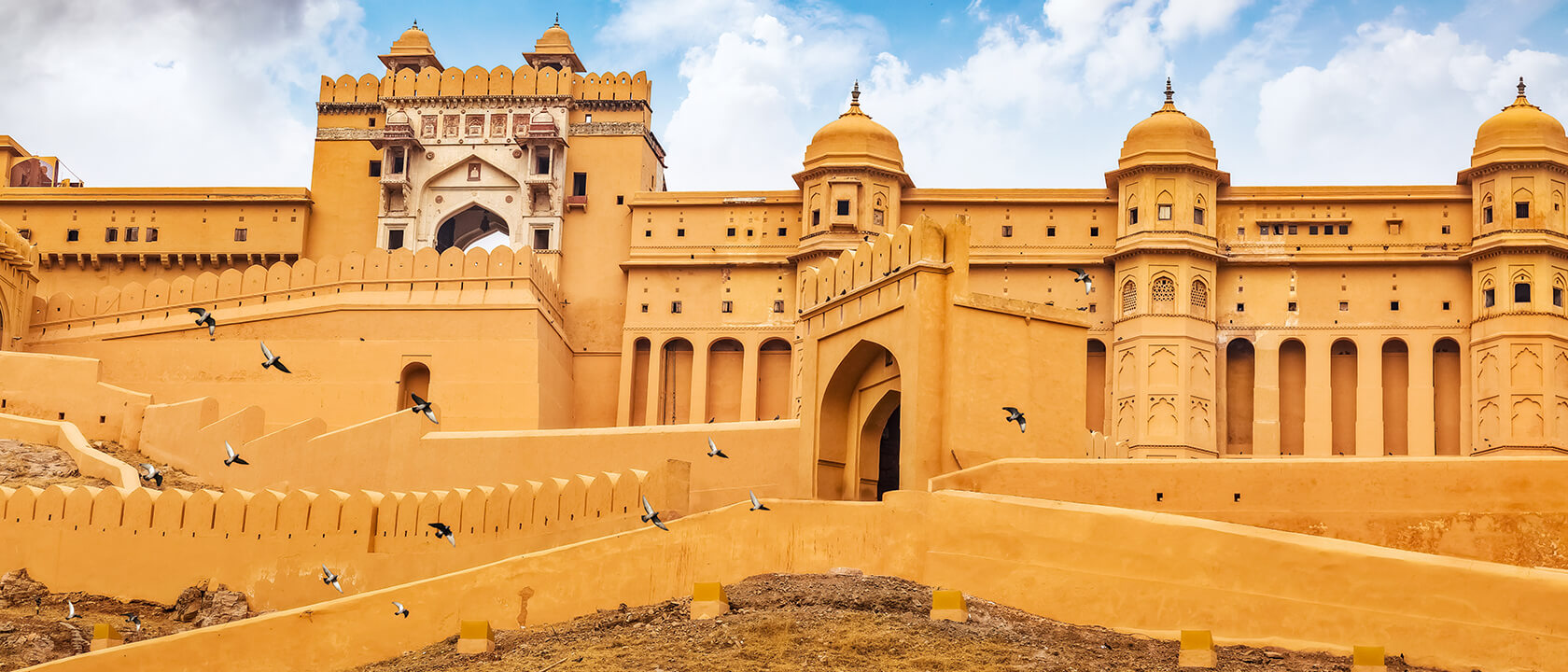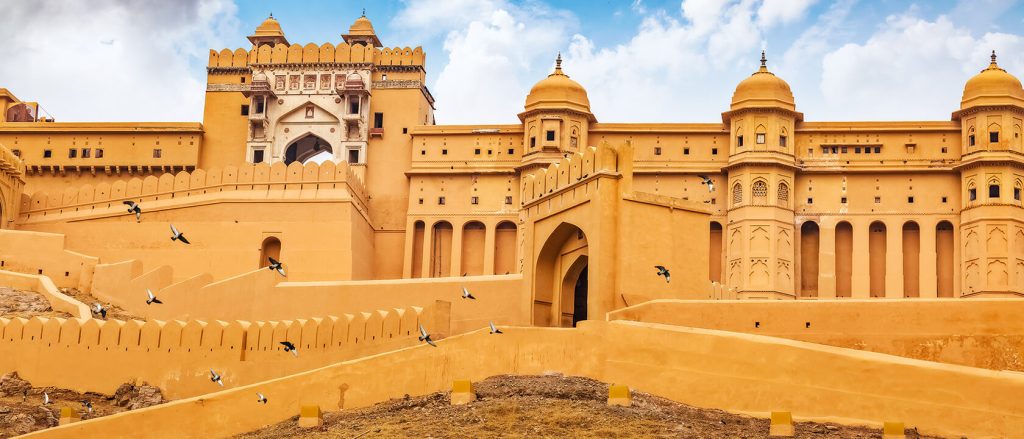 1. Amer Fort or Amber Fort
The fort was built in 1592, in red sandstone and marble. The marvellous fort is house to the 'Diwan-i-Aam', the 'Sheesh Mahal' and the 'Sukh Mahal'. The fort, that stands tall against the tests of time, is a wonderful display of the Hindu and Muslim influence on the architecture of the era. Another exciting activity around the fort is the elephant safari in the Dera Amer village. The ride will take you through fields, fortress and to the camp in the middle of Aravali forests. You can also ride on an elephant to the entrance of the fort and the lifestyle that the royals lived in the bygone times.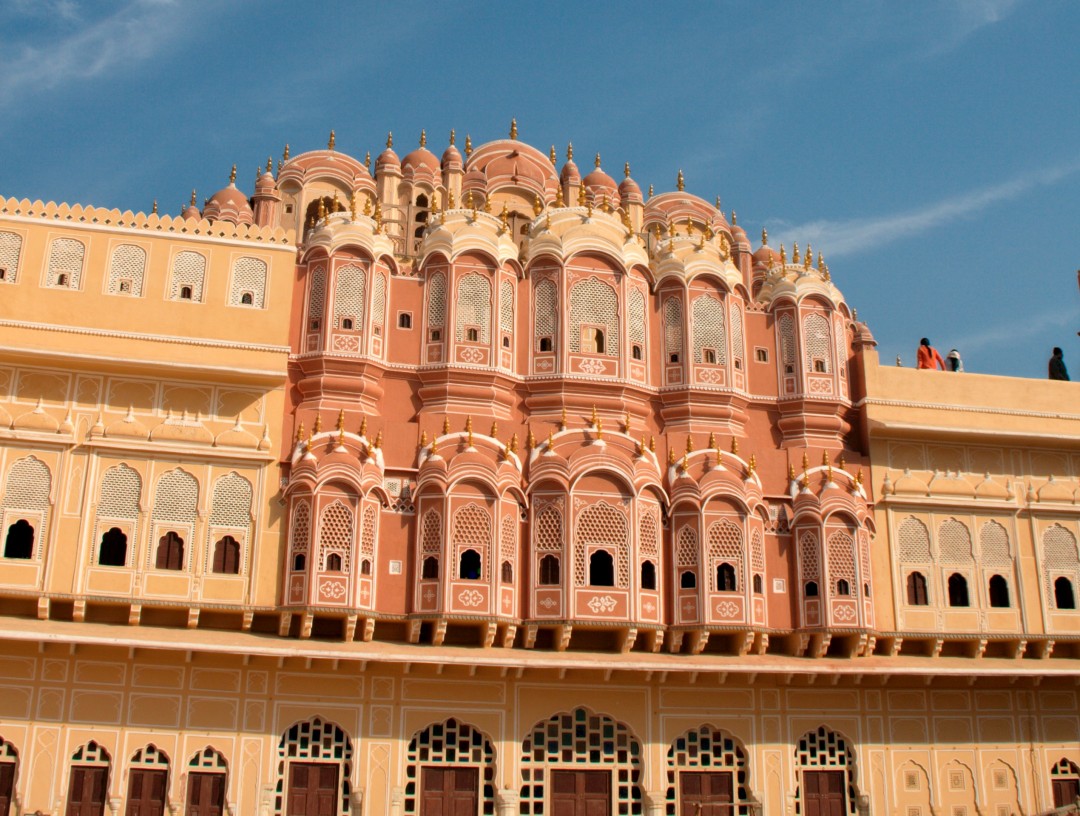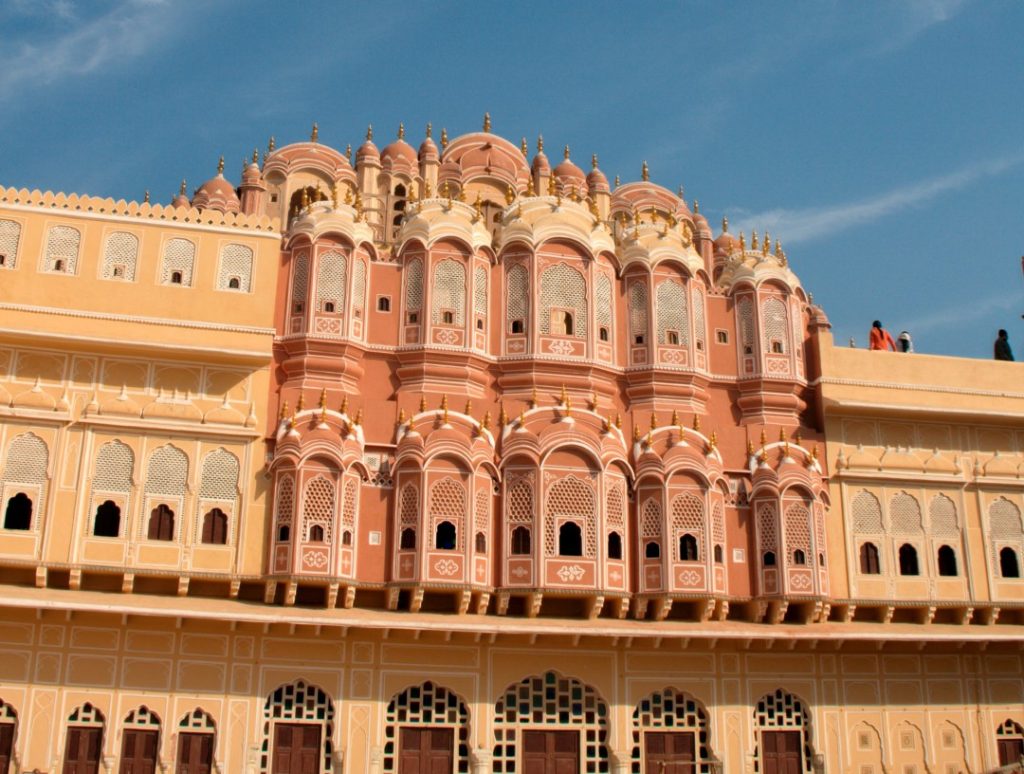 2. Hawa Mahal
The Palace of Winds, or Hawa Mahal in Hindi, was constructed in 1799. This palace was constructed to facilitate the royal women and provide them with the views of everyday life through the windows, as they never appeared in public. Interestingly, the rosy colour of the palace comes from the natural sandstone, from which it is built. The palace is believed to. have been constructed in the pattern of Lord Krishna's crown. It is a quintessential Rajputana architecture, the main highlight being its pyramid shape and the 953 windows or 'Jharokhas' decked up with intricate designs.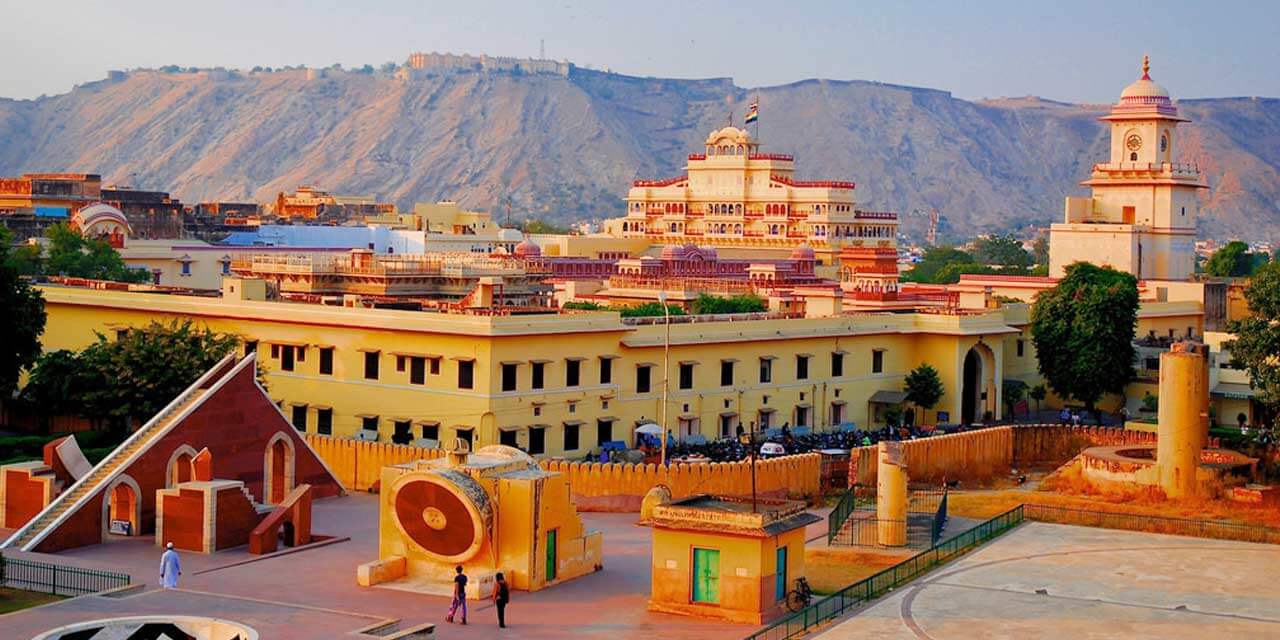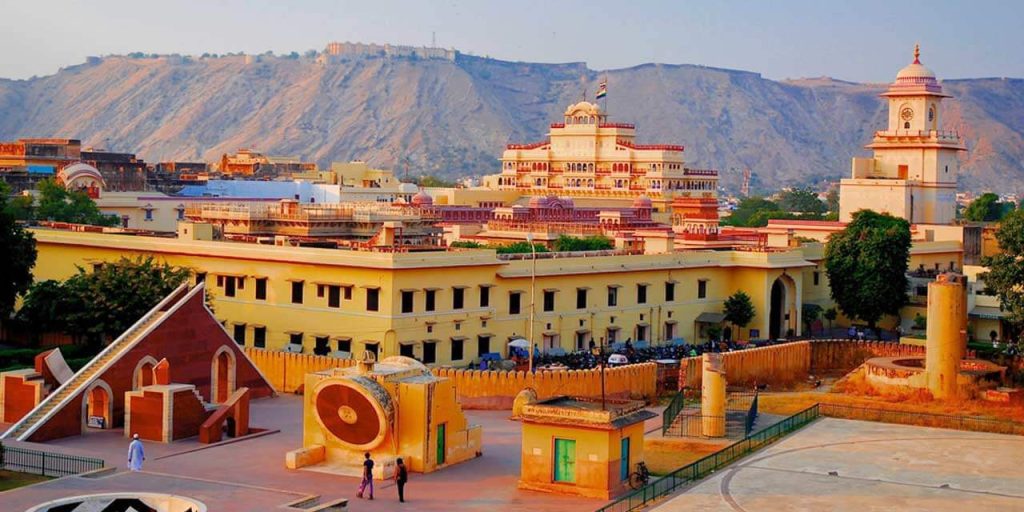 3. Jantar Mantar Observatory
This is one of the largest astronomical observatories with the biggest sundial in the world. The geometric devices available here are used in measuring time, observing constellations and orbits around the biggest star.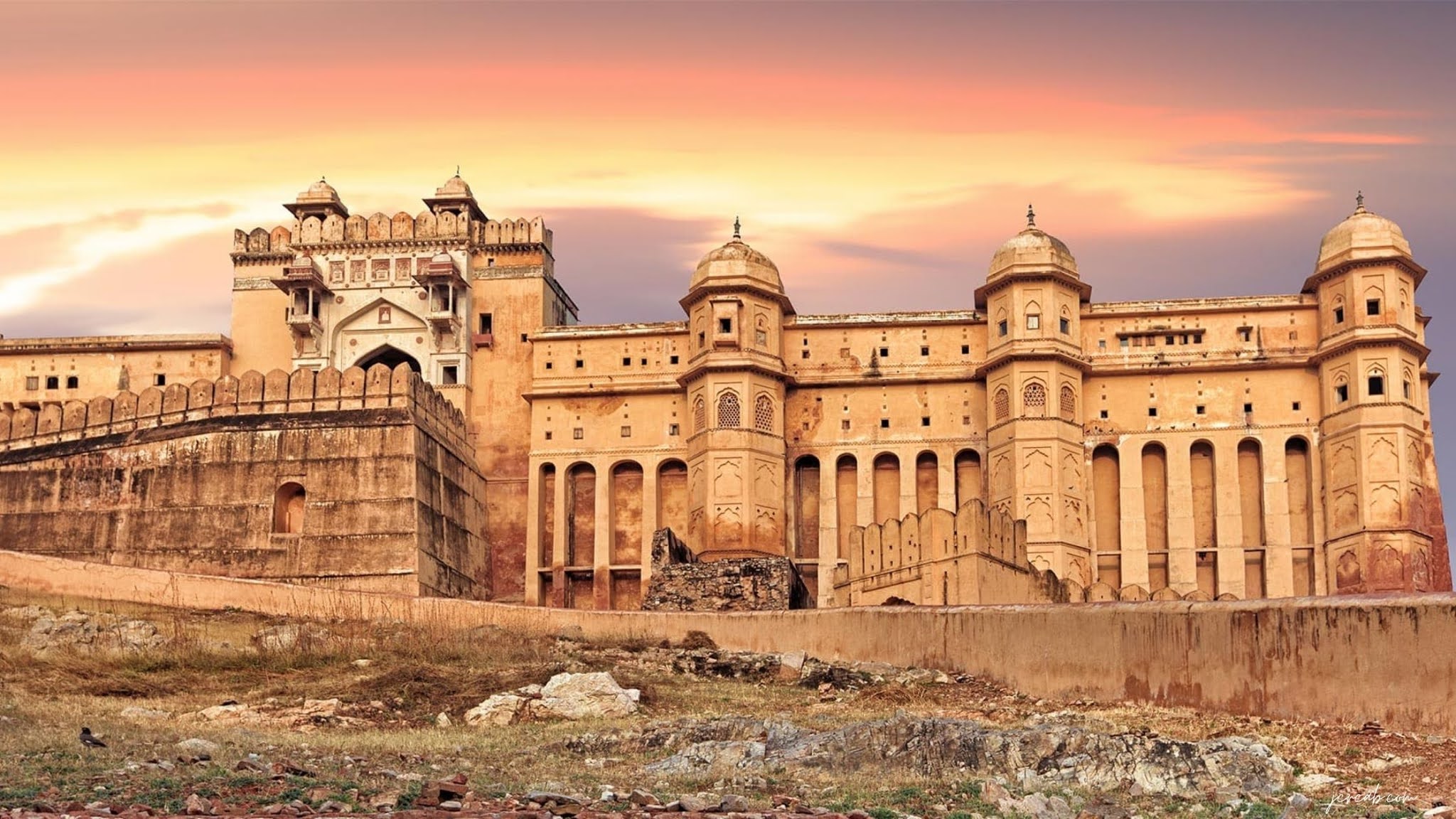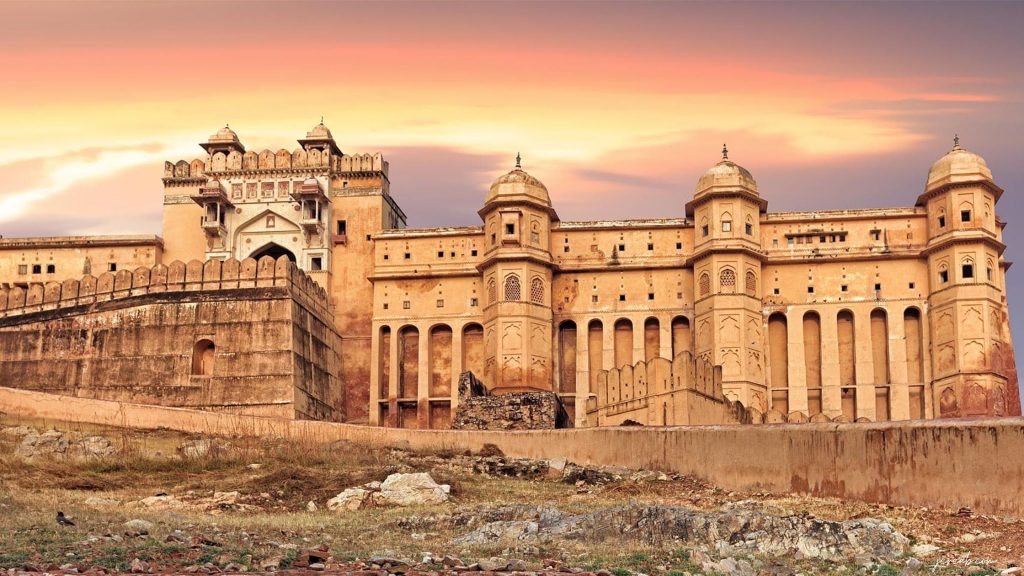 4. Nahargarh Fort
This Fort, along with other two forts viz., Amer Fort and Jaigarh Fort, once formed a strong defence for the city of Jaipur. Nahargarh means 'abode of tigers'. Located in a picturesque backdrop of the Aravalli Hills, Nahargarh Fort offers a breathtaking view of the hilly milieu. The trek from the foot of the hill to the top where the fort is located in a wonderful experience.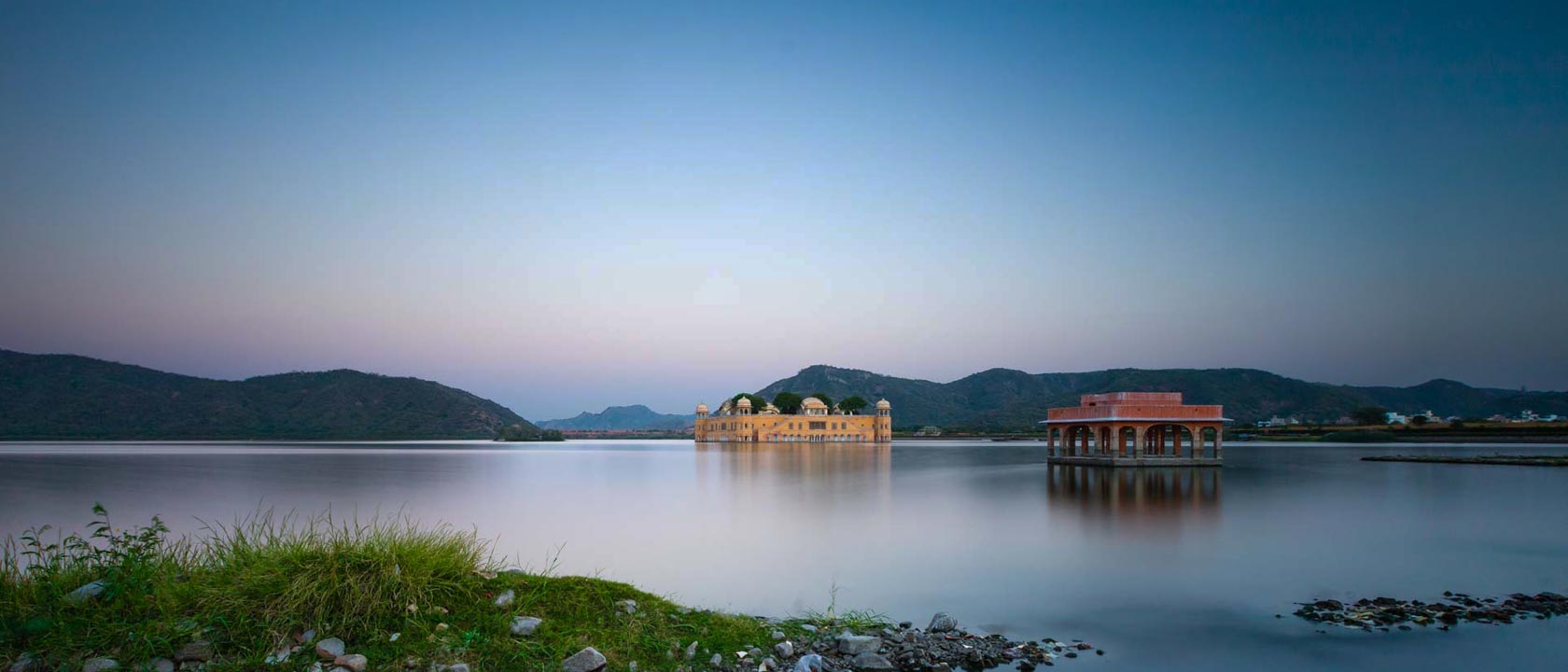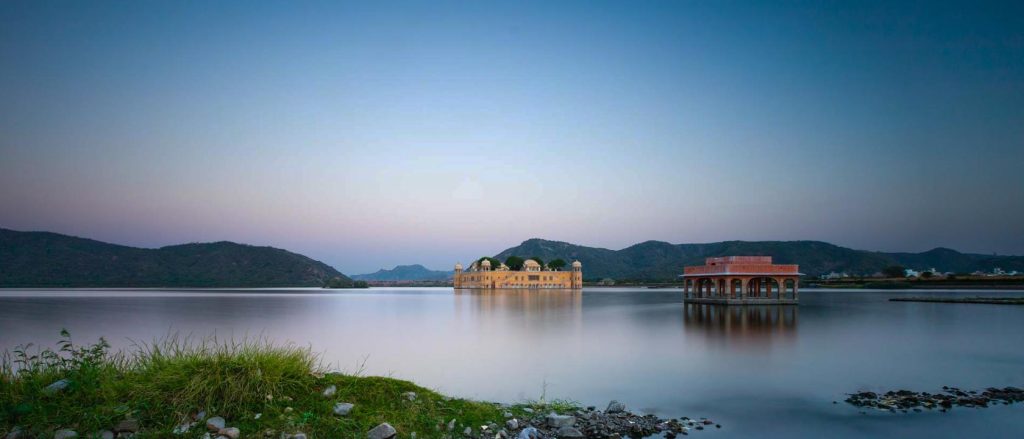 5. Jal Mahal
Literally, Jal Mahal translates into Water Palace. This five-storied palace of red sandstone has a fascinating history. The monument was conceived as a hunting lodge for the local King. During the 18th century, the water-locked lodge was renovated and the lake area was expanded. A severe drought spurred the 16th-century locals to dam the deep depression, creating the lake, which submerged the lower portions of the palace. For a great deal of the temple's history, visitors were able to take gondolas across the lake waters to visit the historic faux-palace. The rooftop of the structure manages to support foliage and from the shoreline, it almost looks like the castle is still in use. It is a spectacular view in the evenings when the ancient Water Palace is illuminated as though there is some secret soirée occurring just out of reach.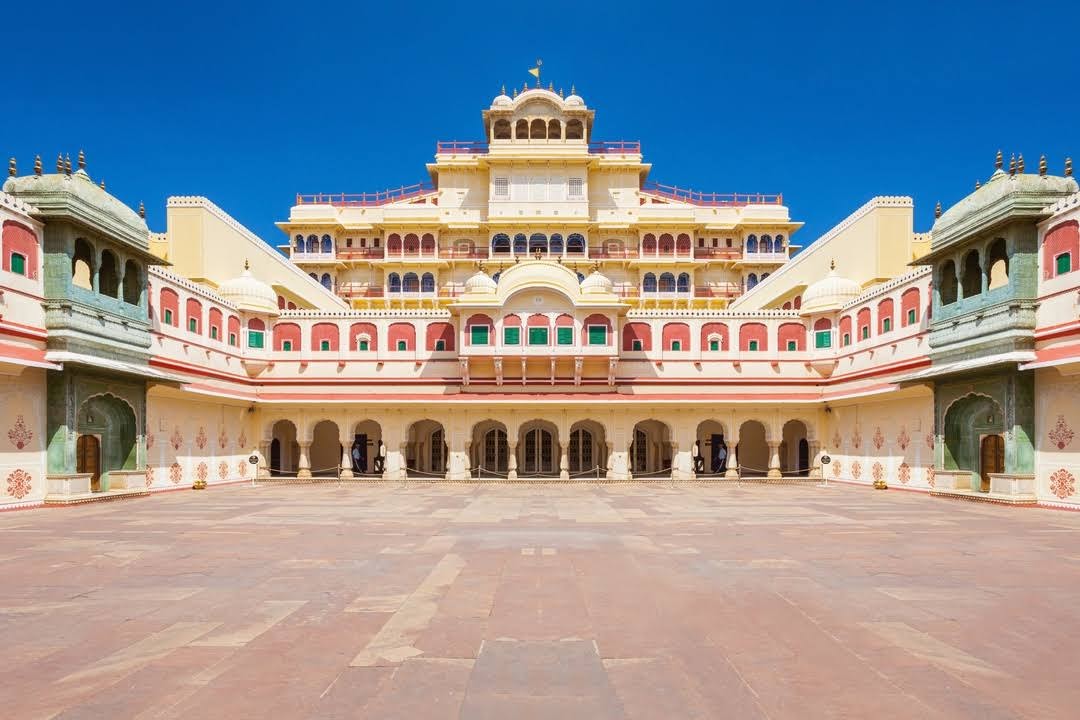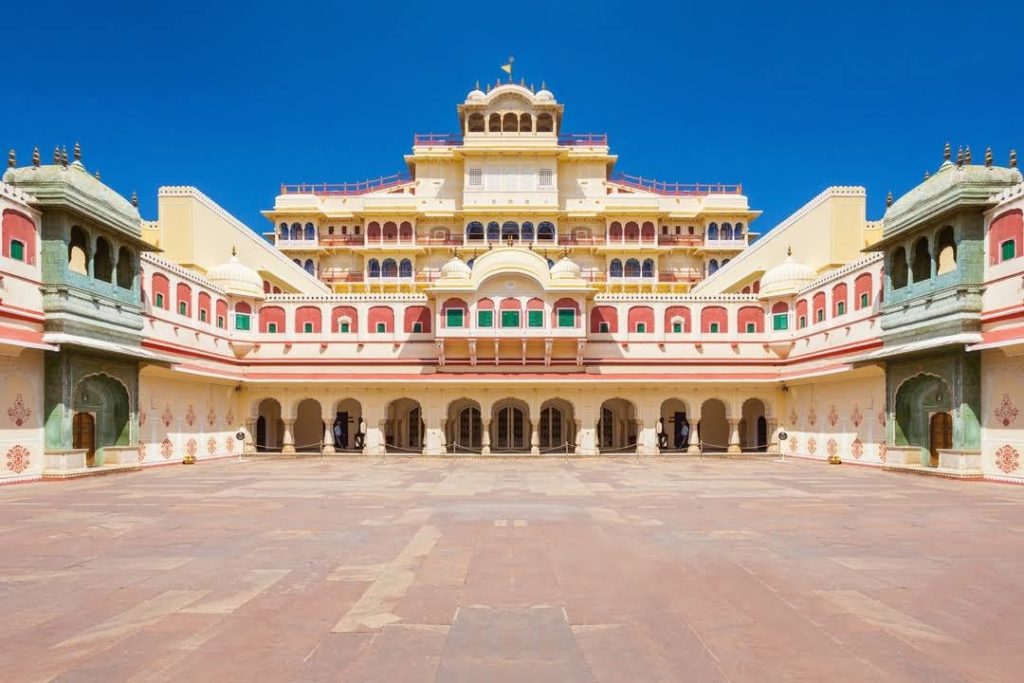 6. City Palace
The City Palace depicts typical Rajput style architecture complete with layers of chambers and halls. While a portion of the palace remains the residence of the royal family of Jaipur even today, visitors have access to other parts of the palace complex including Mubarak Mahal, Diwan-i-Khas and Maharani Palace. The City Palace also houses a museum with a fine collection of artefacts and a temple.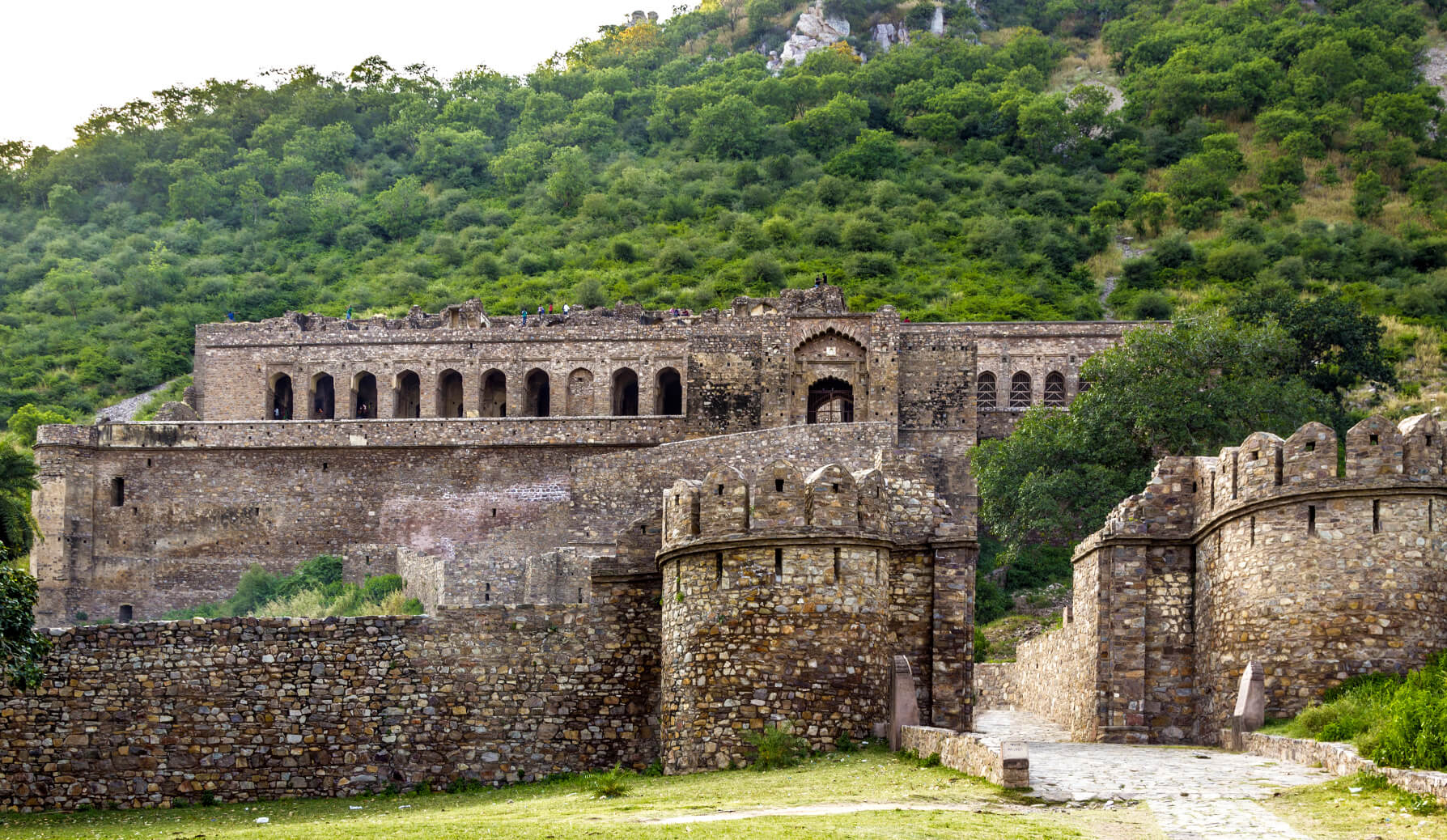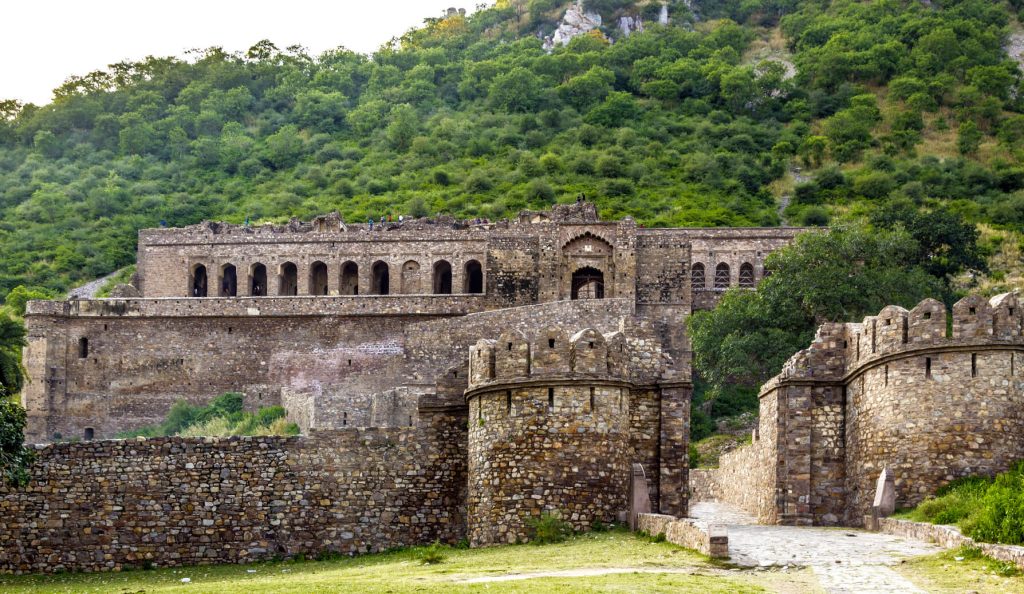 7. Bhangarh Fort
This situated at about 85km from Jaipur is one of the most visited Sites in Rajasthan. This abandoned fort is said to be one of the most haunted places in India and the Archaeological Survey of India has forbidden access to this site after sunset. The reputation of Bhangarh stems from two legends, one of which involves a holy man, Baba Balnath who supposedly cursed Bhangarh after the fort cast a shadow over his abode. The second story claims that Princess Ratnavati of Bhangarh was responsible for this apocalyptic situation. A local black magician fell in love with her and tried to bewitch a cosmetic she was supposed to use. The princess smelled suspicion and foiled the entire conspiracy of the black magician by pouring the cosmetic over a massive stone boulder, which then supposedly crushed the magician to death. Before the magician breathed his last, he placed a curse upon the entire landscape that no soul would ever be able to live in peace there.
Things to do
If you are the wanderlust who craves for more of Jaipur, the city has a lot more to offer:
The city is one of the few places in India, which offers hot-air balloon rides. These rides last typically for three hours. An average balloon ride completes a trip through Jaipur while floating over various forts including Amber Fort and Jal Mahal. The experience of witnessing the spectacular landscape of Jaipur from the skies is an experience that would last a lifetime.
Chand Baori in Abhaneri, near Jaipur, is one of the largest, and perhaps the most visually spectacular step-wells in India. Built in the 10th century, Chand Baori is a deep four-sided structure with a beautiful temple on one side. The steps measure up to a depth of 100 feet.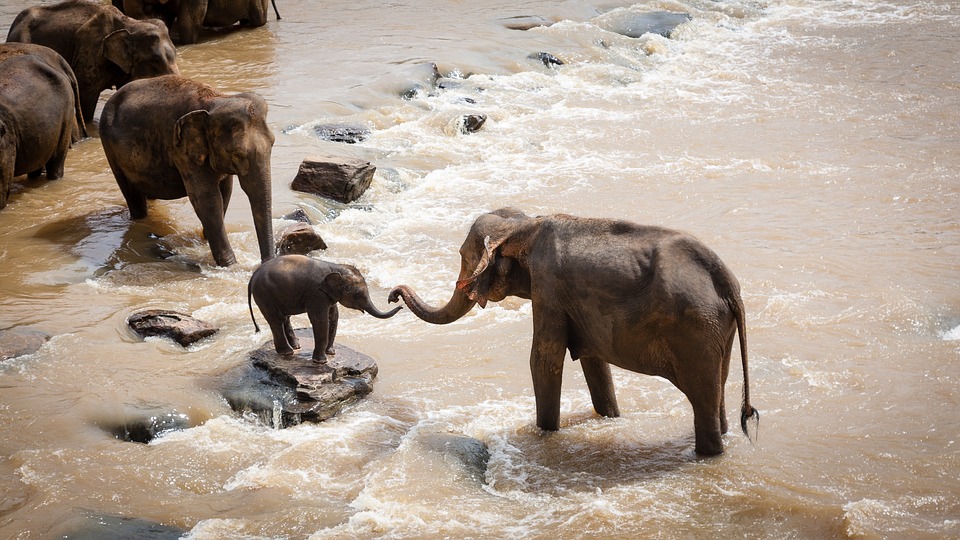 Spend a day at an elephant farm in Jaipur's 'Hathi Gaon'. Get a hands-on experience of working with the mahouts- bathe them in the ponds, prepare their food and feed them, paint their trunks and ride on them on this picturesque land by the Aravallis.
Polo, the 'game of kings', continues to be widely played and patronized by the upper strata of society in Jaipur. While invites to an exclusive polo match can be hard to come by, you can watch a match at one of the city's polo clubs like Ramgarh Resort & Polo Complex or Jaipur Polo Club, free of cost.
The Anokhi Museum of Hand Printing was established to preserve the age-old tradition of hand-block printing. Much of Jaipur's artisan community still practice this intricate craft. In the Anokhi Museum of Hand Printing, you can learn the aesthetics of this trade and witness block printing artisans at work. Visitors can also shop for locally made handcrafted merchandise.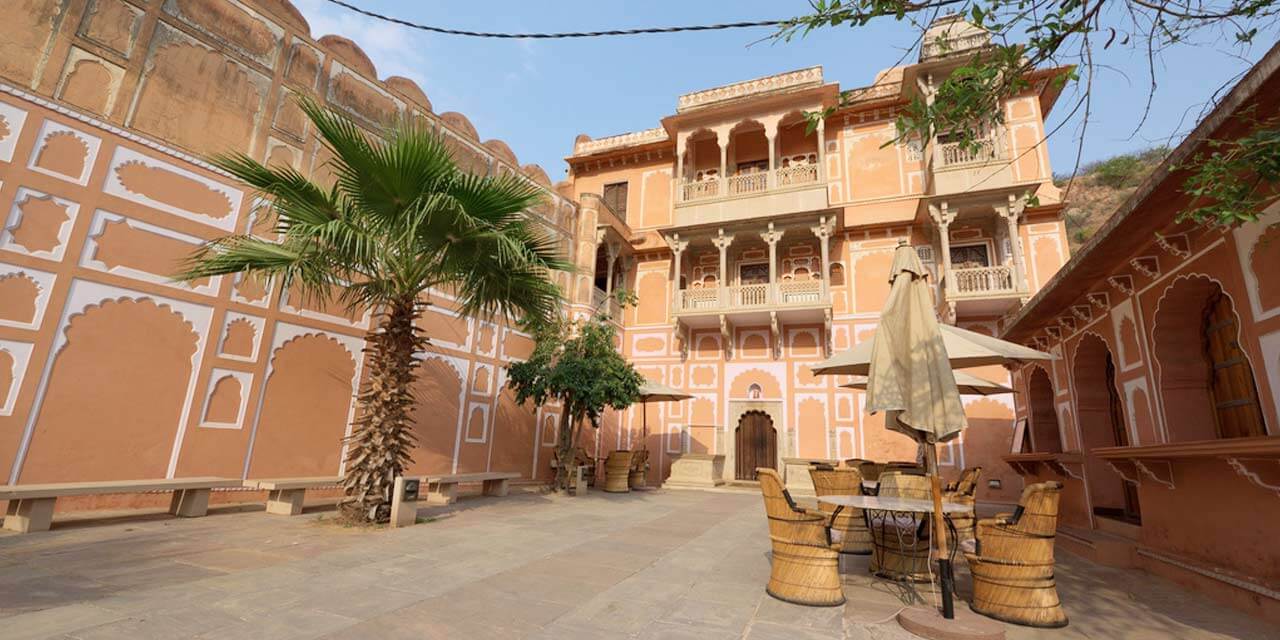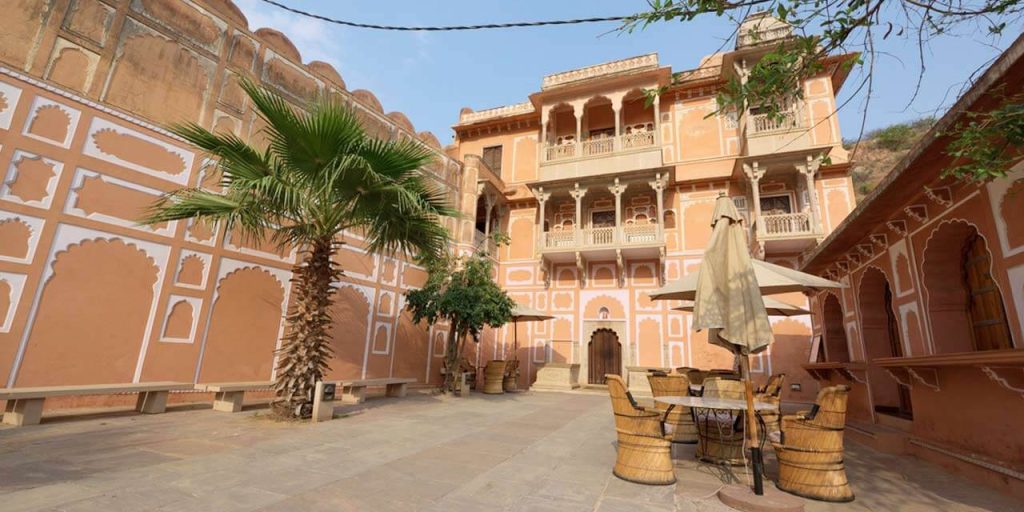 Rajasthani cuisine
Rajasthan is famous for its lip-smacking cuisines. Make sure to try the traditional cuisines apart from the regular Indian foods. One of the most famous items is 'lal mass', a lamb-based dish that dates back to royal times. Doused in spices, yoghurt and chillies, the flavour of the gravy is heightened by it being cooked on a slow fire for many hours. Ghewar, a traditional Rajasthani sweet is a favourite with locals and tourists. Daal Baati is a popular lentil based dish of Rajasthan that is served with hard wheat rolls and spicy hot chutneys. Seasoned with ghee and served hot, most local eateries in Jaipur have it on their menu.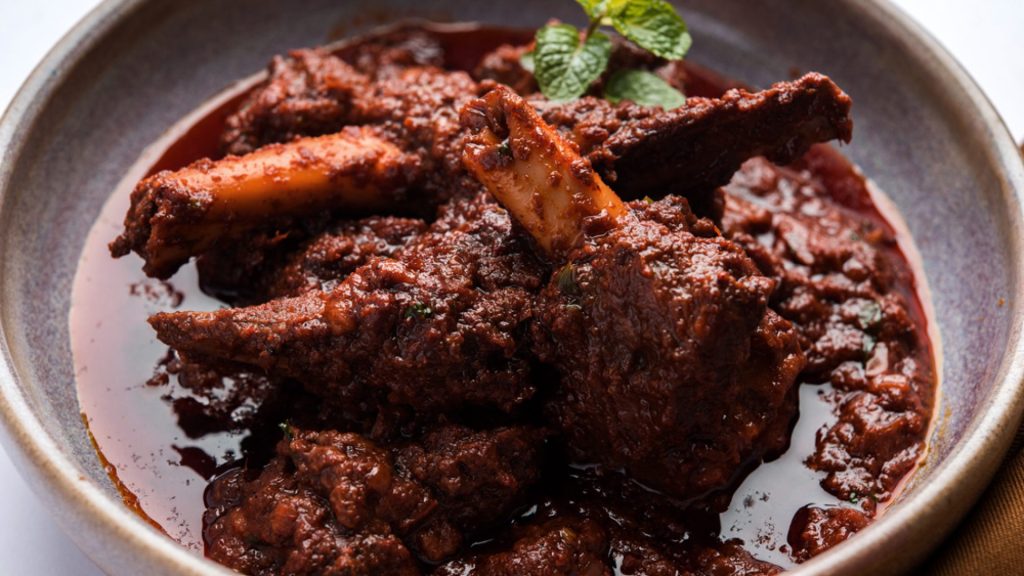 A few other things that must be tried are listed below:
Sanjay's Omelettes (B-18-19, Janta Store, Bapu Nagar, Jaipur): Once a tiny omelette outlet in Jaipur, this place is more than three decades old and has been serving generations with 150 varieties of lip-smacking egg-based dishes.
Steaming hot pyaz ki kachoris (deep fried onion snack) or aloo pyaz ki kachoris (deep fried potato and onion snack) are sold at most sweet shops across Jaipur. Kachori is a fried snack that can either be sweet or savoury. When in Jaipur, pick up your box of the famous pyaaz kachori from Rawat ki Kachori and enjoy it with a hot cup of tea. Pyaaz kachori has a crisp, flaky, deep-fried crust; stuffed with a lightly caramelised and exceptionally seasoned onion filling.
Bistros and cafes are upcoming in Jaipur. Taruveda is one such bistro tucked away in a green corner of Jacob house, Civil Lines. C'est Bon The patisserie, situated just off MI Road close to the Bake Hut store is the perfect place to find breakfast all day.
Shopping
Jaipur is famous for being a shopper's paradise. It is acclaimed to be one of the finest cities in Rajasthan to shop from. Famous designers from all over the world, source materials from Jaipur. What is found in Jaipur is nowhere to be found in the world. From the most exclusive designer stores to market stalls, there is something for everyone. For those who want to do jewellery shopping, Jaipur is the perfect destination.
Every detail of Jaipuri art is brought out through distinct complexity and presented on the items sold. Jewellery and jewellery boxes can be found in abundance at affordable rates. Exquisite gemstones including turquoise, emerald, and sapphire can be found in abundance in the street market and every nook and cranny of the city.
Jaipur is thus a treasure trove for shoppers. A wide range of handicrafts is available in the market, most of the items being produced in and around the city.
The city is one of the most important centres in the world for cutting and polishing precious and semi-precious stones. Some of the well-known markets of Jaipur are: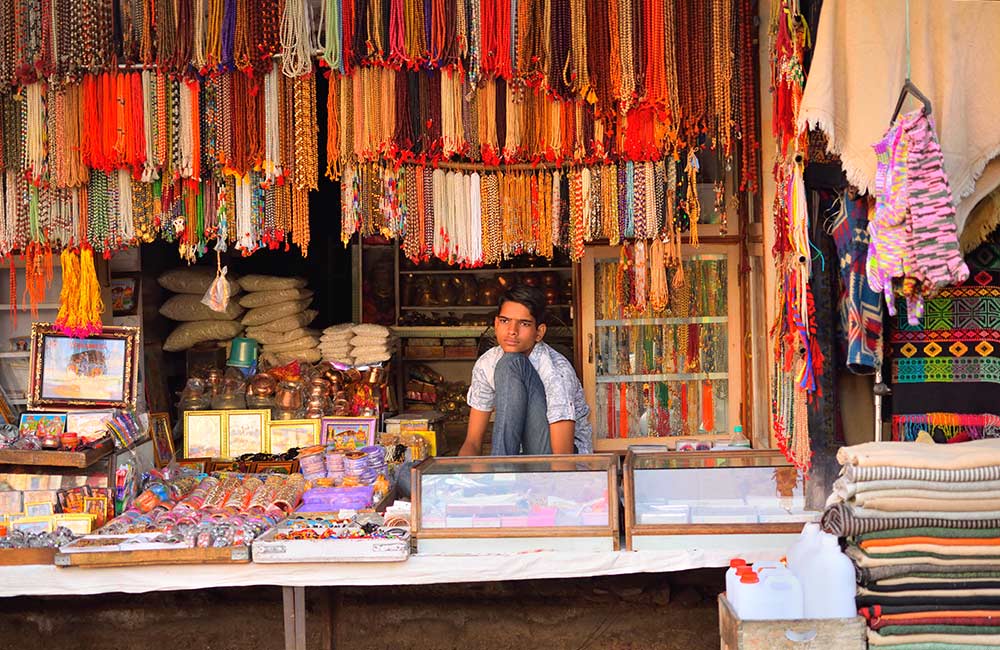 1. Johari Bazar
Also known as the jewellers' market, Johari Bazaar consists of rows of jewellery shops. In the bazaar at Gopalji ka Rasta, you can buy colourful meenakari jewellery, a local speciality made with glazed enamel work. Johari Bazaar is also famous for bandhani and block-printed textiles in a range of patterns and colours.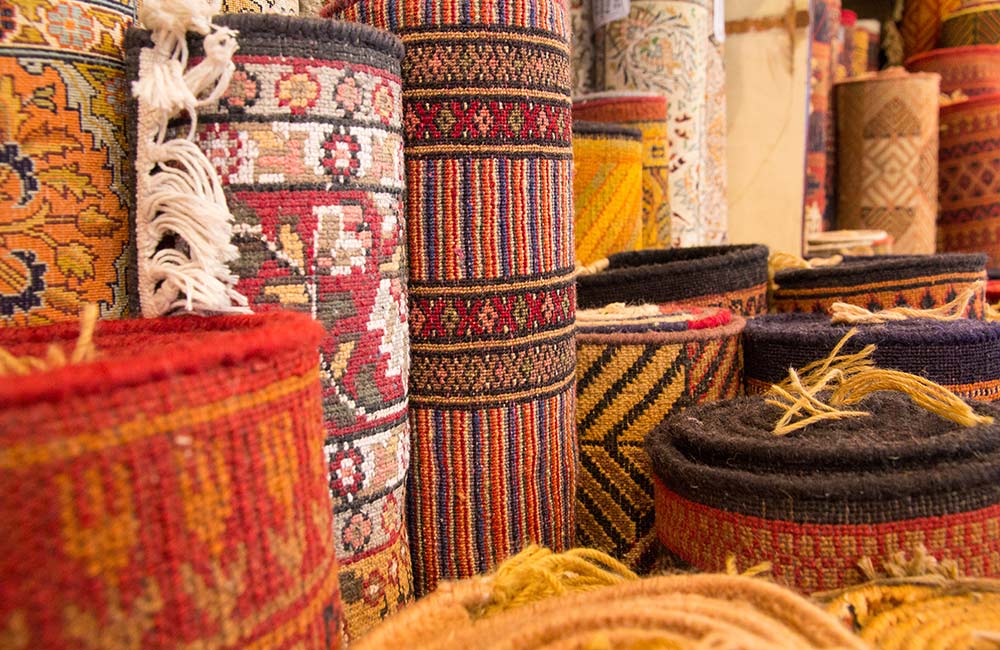 2. Tripolia Bazar
It is situated close to the City Palace. It is considered as the best place to purchase iron, stainless steel and brass utensils. There are also several shops selling textiles, furniture, rugs and trinkets.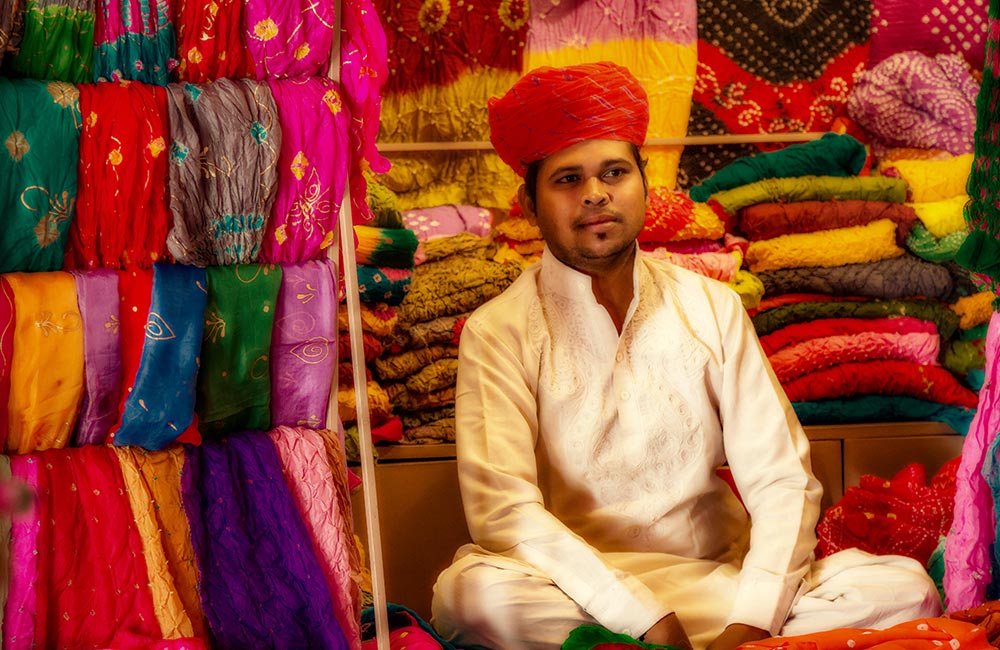 3. Kishanpol Bazar
It is the go-to place for textiles and wooden furniture. This is probably your best bet for colourful clothes done in the traditional bandhani and lahariya style. Everything is reasonably priced, provided you know the tricks of bargaining.
4. Sireh Deori Bazaar
Located opposite the city's famous Hawa Mahal, it is the main bazaar, which leads from the western gate of the city walls past the city palace to eastern city gate. Here you indulge with some window-shopping and buy anything from beautifully light quilts, handmade puppets, leather shoes, knick-knacks and colourful textiles.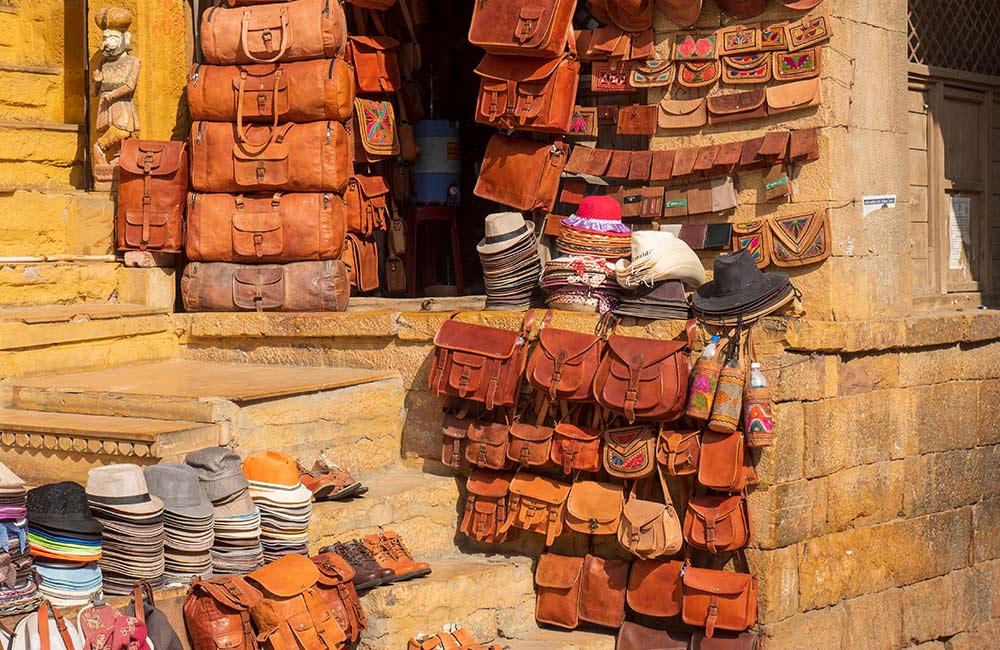 5. Bapu Bazaar
Considered as the fashion street of Jaipur, this market is a great place to stock up on embroidered garments. With a magnificent collection of skirts, leheria stoles, special Jaipuri woollens and shawls, this place is where you can get the best deals on the prettiest things.
6. Badi Chaupar
This is a perfect place to buy gifts or shop when you are in a hurry. From block printed clothes to traditional souvenirs and gift items, you will find everything here.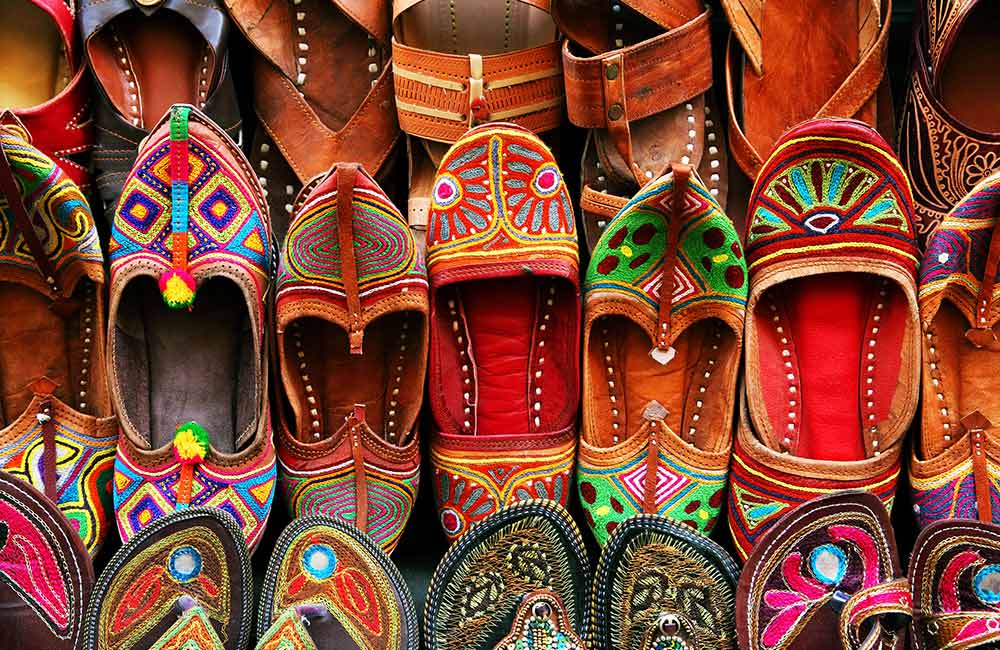 7. Nehru Bazaar
Nehru Bazaar is the best place to buy Mojris, a traditional Rajasthani footwear in the form of a flat sandal. It is available for both men and women. Also called as Mojaris, the colorful traditional Rajasthani juttis are the main attraction of this marketplace, and are available in diverse styles and hues. Located in close proximity to Chaura Rasta, Nehru Bazaar houses different shops which are well-known for offering trinkets, printed dress material as well as colorful bandhani dupattas. Ready-made garments, bags, household items, blue pottery items and footwear are also amongst the popular items of this bazaar.
8. Chaura Rasta
Jaipur is also well known for its variety of fine hand-printed paper. This market will be a delight for stationery lovers. A wide assortment of papers, including organic handmade papers and handcrafted diaries, the market is a delight for stationery lovers.
Places to Stay
Jaipur has several luxury hotels modelled on the old Rajputana Palaces that gives the guests a taste of royalty. However, there are several other hotels available at budget prices. There are various havelis converted into medium priced heritage hotels that offer comfortable and traditionally done up rooms.
The local people are accustomed to tourists and are generally very friendly. Values and traditions are deep-rooted in the city of Jaipur. If you do find accommodation at a homestay, or a locally run hotel, very often the hosts will treat you like a member of their family, which can be a heartwarming experience. If you are visiting during the peak season you can expect a tourist influx.
You can check out these blogs to know more about the stay options in Rajasthan: Luxury stays in Rajasthan, Tent stays in Rajasthan and Homestays in Jaipur.
Best time to travel
Tourist season begins in September and continues up to February. The weather is cool and pleasant during these months. January is a good time to visit the city, as the annual 'Jaipur Literary Fest' is held during this month. The festival boasts of being one of the largest free literary festivals in the world. The festival is held in the beautiful Diggi Palace every year, making it quite a grand affair.
Jaipur is a perfect place for a variety of people to visit. It is a romantic getaway with many luxurious heritage hotels. This is a place that the history buffs and architecture enthusiasts enjoy. Definitely, a place to be if you are a foodie or a shopaholic.  With interesting activities like desert safaris, hot air balloon rides, elephant and camel rides, Jaipur is also an apt place for those with an adventurous spirit.