FROM BANGALORE: SAKLESHPUR, KARNATAKA
UPCOMING HOLIDAYS IN SUMMER 2015
– Saturday, March 28, 2015 (Ram Navami)
– Friday, April 03, 2015 (Good Friday)
– Tuesday, April 14, 2015 (Dr Ambedkar Jayanti)
– Friday, March 01, 2015 (May Day)
Sakleshpur is also referred to as the 'poor man's Ooty'. This tiny town is located in Hassan district of Karnataka. The town is surrounded with lofty green hills full of coffee, cardamom, pepper and areca plantations.
MAJESTIC FORT: Tipu Sultan was known to be the creator and architect of the Manjarabad Fort. It is also believed that he had constructed a tunnel from this fort to another fort in Srirangapattana near Mysore. Most tourists visit the fort for its beautiful view of the surroundings and the timeless architecture.
TREKKING: Sakleshpur is very popular among trekking enthusiasts. Known as The Green Route, a stretch from Sakleshpur to the Subramanya railroad station, traverses the Western Ghats. The trekking route is exciting as a tourist passes through approx 58 tunnels, 109 bridges and about 25 waterfalls. Other places to trek in Sakleshpur taluk is Bisle Ghat or Bisle Reserve Forest, Pandavar Betta, Jenkal Betta, Ettina Bhuja etc. Get ready to trek up!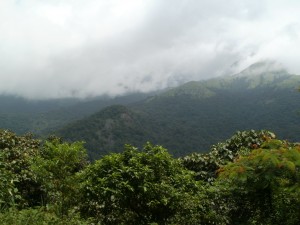 MISTY MORNINGS: Wake up early to spot trekking enthusiasts at Sakleshpur.
Book your stay here: Homestay in Sakleshpur