Gliding on the emerald backwaters of Kerala, The Oberoi Vrinda promises you a luxurious and memorable cruise stay in India.
IMAGINE SAILING through azure waters, past golden I beaches, lush rice paddies, and lofty mountain ranges, all the while immersing yourself in luxury. If the idea of exploring the backwaters of Kerala lures you, The Oberoi Vrinda, Luxury Kerala Cruiser is the perfect pick.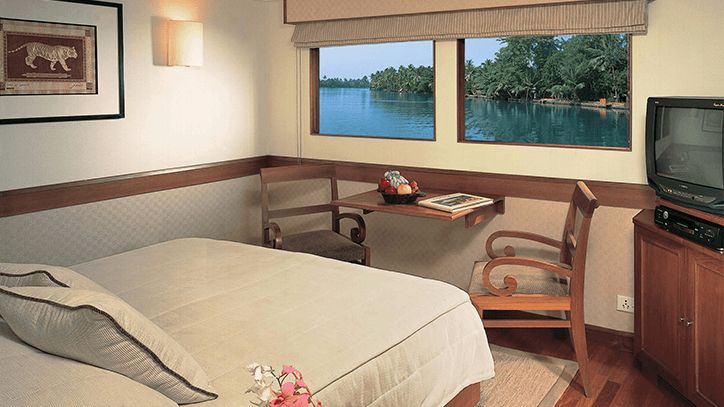 The air-conditioned cabins on board The Oberoi Vrinds Offer sweeping views of Lake Vembanad; The Oberoi Vrinda, Luxury Kerala Cruiser is an ideal option to explore the backwaters of Kerala
Get ready to unwind as you drift on the serene backwaters of Lake Vembanad—a self-supporting eco-system of water highways that meander through green fields, swaying palms, and villages. The Oberoi Vrinda features eight deluxe air­ conditioned cabins with king-size beds, polished teak flooring. and windows that offer breathtaking backwater views and ample natural light. The complimentary on-board services, attention to privacy, and the option of a 24-hour private butler take the experience a notch higher.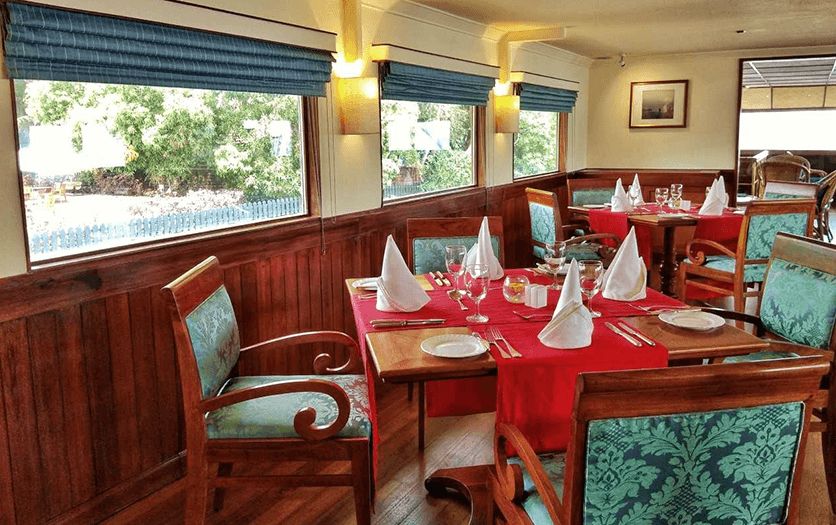 The Restaurent on the vessel serves a wide range of global and local delicacies.
Once on board, be ready to be smitten by the impeccable hospitality and delightful culinary offerings. The Restaurant on the cruise se:rves a wide range of global and local delicacies, freshly whipped up by the chef on board. It is the only luxury cruiser in the country with an on-board kitchen that offers international and regional cuisines.
Pick from a two or three-night itinerary that includes luxury accommodation. sightseeing excursions with a dedicated guide, evening entertainment, and transfers to and from Cochin International Airport.
The first day of the three-night itinerary starts with a trip from Vembanad Lake to Alleppey. On the way, meet local fishermen competing with each other for the biggest catch, and end the day with a traditional dinner accompanied by an authentic Kathakali performance that depicts stories from Hindu epics of Ramayana and Mahabharata. The second day begins with a rice boat excursion along narrow winding rural waterways where you witness local life, followed by a visit to the Karumadi Kuttan- a statue of Lord Buddha that dates back to the 10th Century AD, and a traditional Kerala family residence known as tharavad. The evening entertainment includes a traditional Vrindavadyam performance–a musical fusion of classical instruments. On the last day, the cruise takes you to the 18th-century St. Mary's Church, Sree Bhagavathy Kshetram–a 100 year old temple, and the 130-feet long snake boat, Chambakulam. A breathtaking Mohiniattam classical dance performance and a spread of local delicacies make for a befitting finale.
The two-night itinerary lets you choose between the boat excursion and a visit to the church and temple. Either way, the picturesque backdrop of backwaters and the right blend of luxury and service, will transport you to another world.
Book with HolidayMonk to get the wonderful and luxury experience of Kerala Backwaters.