Radhanagar beach is one of the most popular tourist destinations in India. Located on the Havelock Island in the Andaman and Nicobar Islands, this beach is famous for its pristine white sand, turquoise blue water, and lush green forest. Radhanagar beach has been rated as the best beach in Asia and the seventh best beach in the world by Time magazine in 2004. It is also known as Beach No. 7 or simply Paradise Beach.
Why is Radhanagar beach famous?
Radhanagar beach offers a variety of activities for visitors, such as swimming, snorkeling, scuba diving, kayaking, and surfing. The beach is also home to a diverse marine life, including coral reefs, turtles, dolphins, and fish. The beach is ideal for relaxing and enjoying the scenic beauty of nature. The sunset at Radhanagar beach is a spectacular sight that attracts many photographers and travelers.
Radhanagar beach is easily accessible by ferry from Port Blair, the capital of Andaman and Nicobar Islands. The ferry ride takes about two hours and costs around 400 rupees per person. The beach is open from 6 am to 6 pm every day and has basic facilities such as changing rooms, toilets, and food stalls. There are also some resorts and hotels near the beach that offer comfortable accommodation and services.
Radhanagar beach is a must-visit destination for anyone who loves beaches and nature. It is a place where you can experience the beauty and tranquility of the Andaman Islands. Radhanagar beach is a perfect getaway for couples, families, and solo travelers who want to escape from the hustle and bustle of the city life.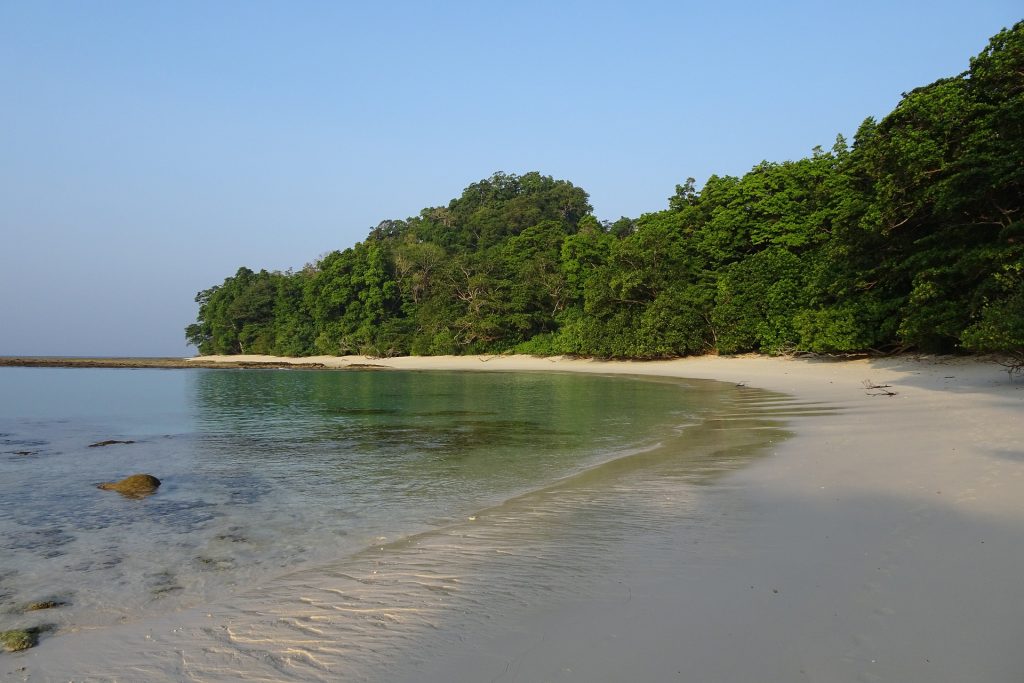 Where is Radhanagar beach?
Radhanagar beach is about 12 km from the main jetty of Havelock Island, and can be reached by road or by boat. The beach is surrounded by lush green forest and coconut palms, and offers a serene and scenic escape from the hustle and bustle of the island. The beach is ideal for swimming, sunbathing, snorkeling, and surfing, as well as for enjoying the spectacular sunset views.
Radhanagar beach is also home to some of the best resorts and hotels in Havelock Island, such as Taj Exotica Resort & Spa, Barefoot at Havelock, and Radhanagar Beach Resort. These resorts offer luxurious accommodation, fine dining, spa facilities, and other amenities to make your stay memorable and comfortable.
If you are looking for a place to relax and rejuvenate your senses, Radhanagar beach is the perfect destination for you. It is a paradise for nature lovers, adventure seekers, and romantic couples alike. You will surely fall in love with the beauty and charm of this beach, and will want to come back again and again.
What to expect at Radhanagar Beach?
Pristine white sand and turquoise water: Radhanagar Beach is known for its fine white sand and clear blue water that reflects the sky. The beach is clean and well-maintained, and offers a spectacular view of the sunset. You can relax on the soft sand, swim in the warm water, or take a stroll along the shore. The beach is also ideal for photography, as you can capture the contrast between the sand, water, and greenery.
Lush green forest and wildlife: Radhanagar Beach is surrounded by a dense forest that is home to various flora and fauna. You can explore the forest by taking a guided trek or a bike ride, and spot some of the exotic animals and birds that inhabit the island. Some of the wildlife you may encounter include elephants, deer, monkeys, parrots, hornbills, and kingfishers. You can also visit the nearby Elephant Beach, where you can see elephants bathing in the sea.
Water sports and adventure activities: Radhanagar Beach is not only a place to relax, but also a place to have fun and excitement. You can indulge in various water sports and adventure activities that are available on the beach or nearby. Some of the options include snorkeling, scuba diving, kayaking, jet skiing, parasailing, and banana boat rides. You can also take a boat trip to see the coral reefs and marine life that lie beneath the surface.
Local cuisine and culture: Radhanagar Beach is also a great place to experience the local cuisine and culture of the Andaman and Nicobar Islands. You can find many restaurants and cafes on the beach or nearby that serve delicious seafood and other dishes. You can also try some of the local delicacies such as fish curry, coconut rice, and banana fritters. You can also learn about the history and culture of the islands by visiting the nearby museums, monuments, and tribal villages.
Radhanagar Beach is a must-visit destination for anyone who loves nature, beauty, and adventure. It is a place where you can enjoy the best of both worlds: the tranquility of the beach and the thrill of the forest. It is a place where you can create unforgettable memories with your family and friends.