Travel in a luxury train has its own charm, and luxury trains operated by the Indian Railway Catering and Tourism Corporation (IRCTC) in India offer you magnificent hospitality and a world overflowing in opulence, exuding an impression that takes you back to the days of Maharajas.
Trains take you to places, but luxury trains take you to places in style. Offering a seamless blend of the romance of a bygone era with contemporary finesse, luxury rail journeys in India offer unparalleled opportunities to discover the true essence of Indian culture. IRCTC – run Golden Chariot and Maharajas' Express welcome travellers to embark on a beguiling journey to discover the rich heritage of India and experience luxury train travels in India, while also offering outstanding customer service and travel experience.
The Golden Chariot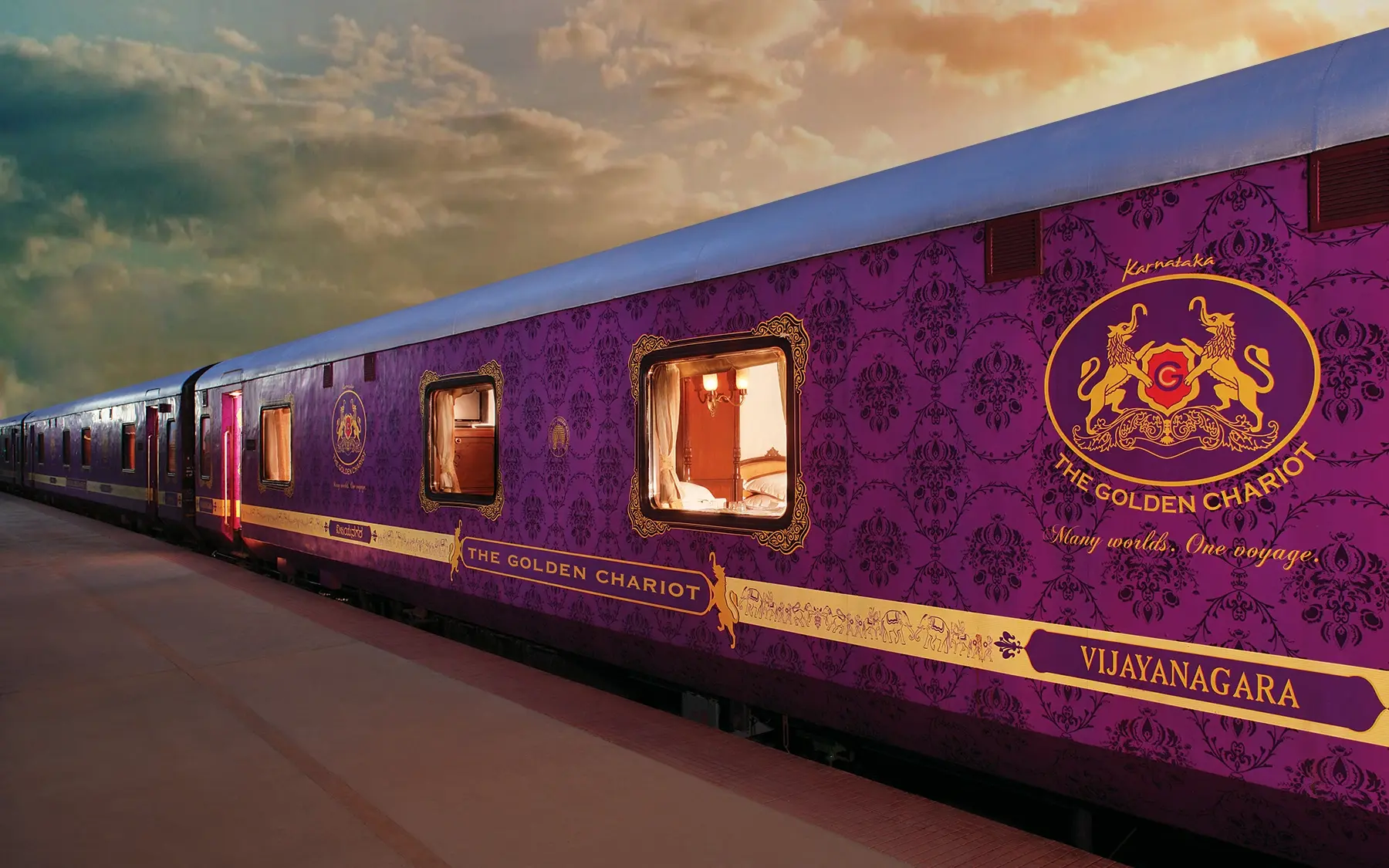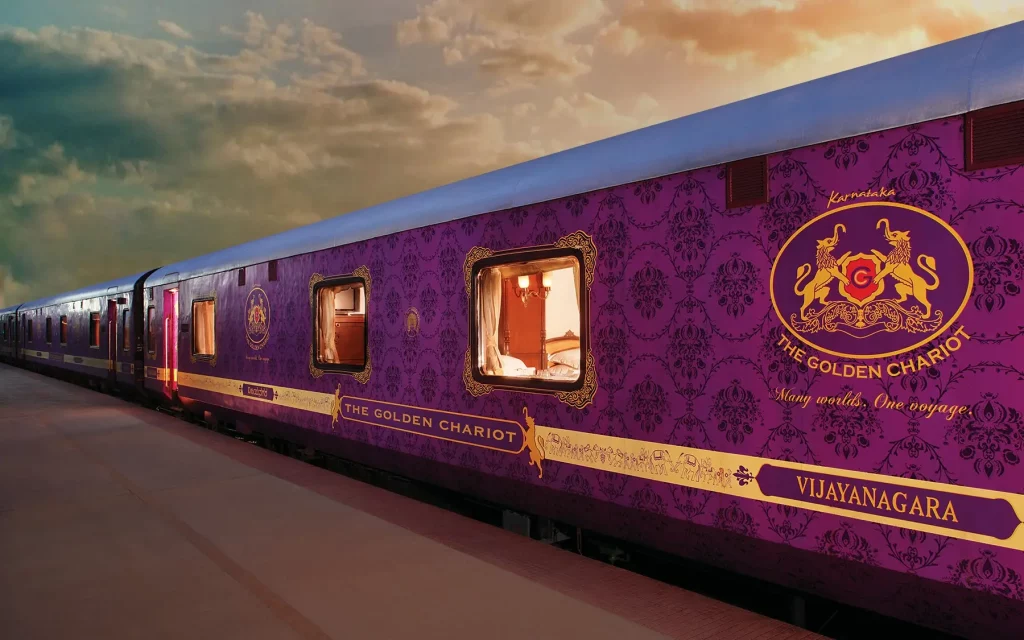 The Golden Chariot Luxury train is owned by Karnataka Tourism and marketed and operated by the Indian Railway Catering and Tourism Corporation Limited the leading luxury tourist train op- erator of the country. The Golden Chariot Luxury Train operates in the South of India cover various states of the southern peninsula.
Destinations covered
The Golden Chariot is an attempt to connect Some of the important dots which have shaped the his tory of South India through several centuries. Destinations on the Golder Chariot route have been chosen to showcase the architecture, culture and history of this region. The unique position of the Southern peninsula, surrounded by Arabian Sea in West, the Indian Ocean in South and Bay of Bengal in the East saw Several dynasties having trade and political linkages with both the West and East. These dynasties with their patronage of the arts and crafts have left an indelible mark on the terrain through intricately carved temple and other structures which tell a tale of the glorious past of these lands.
Facilities on board
The Guest carriages of the Golden Chariot train are named after the dynasties which ruled south India over several centuries. Each guest carriage has four Deluxe cabins with a mix of twins and doubles. The guest cabins are a mix of 13 Double Bed Cabins, 30 Twin Bed Cabins and 1 Cabin for specially abled.
The two restaurants, Ruchi and Nalapaka, serve delectable meals from across the world with an array of Indian options. Madira, the bar serves choicest of wines, beers and spirits. Arogya the Spa Cum Fitness Center combines traditional Ayurvedic Spa therapies with modern workout machines.
Changes post IRCTC took over
After being in operation for a de- cade between 2008 and 2018, the train was taken over by IRCTC under an agreement with Karna- taka Tourism whereby IRCTC, the hospitality and tourism arm of Ministry of Railways, Government of India has taken over the responsibility of marketing and operations of the train.
The entire train has undergone a thorough refurbishment after been taken over by IRCTC. To add to the guest's comforts, the train now boasts of several new features including newly upholstered furniture, elegant drapery, renovated rooms and bathrooms, crockery and cutlery of reputed international brands and an exquisite range of linen. For providing wholesome in-room entertainment, smart TVs with variety of WIFl enabled subscription's including Netflix, Amazon, Hotstar etc have been installed. CCTV Cameras and Fire Alarm System have been added for more safety.
Experienced chefs have created menus presenting an eclectic mix of mouthwatering international as well as domestic fare. The Package now comes with selected house wines and beers included in the cost with a host of spirits on offer. The guests can continue to enjoy relaxing spa therapies at the onboard spa which has also been provided with modern work out machines for the fitness enthusiasts.
The Golden Chariot
The train offers three carefully selected itineraries:
Pride of Karnataka (6 Nights/7 Days): Bengaluru and Bandipur – Mysore – Halebidu and Chikmangalur- Hampi- Pattadakal and Aihole -Goa – Bengaluru.
Jewels of South (6 Nights/7 Days): Bengaluru and Mysore – Hampi – Mahabalipram – Thanjavur and Chettinad – Cochin – Kumarakom – Bengaluru
Majestic Karnataka (2 Nights/3 Days): Bengaluru – Mysore Hampi – Goa
Sojourn of India (3 Nights/ 4 Days): Goa – Hampi – Chimangalur – Goa – Mysore – Bengaluru
Maharajas' Express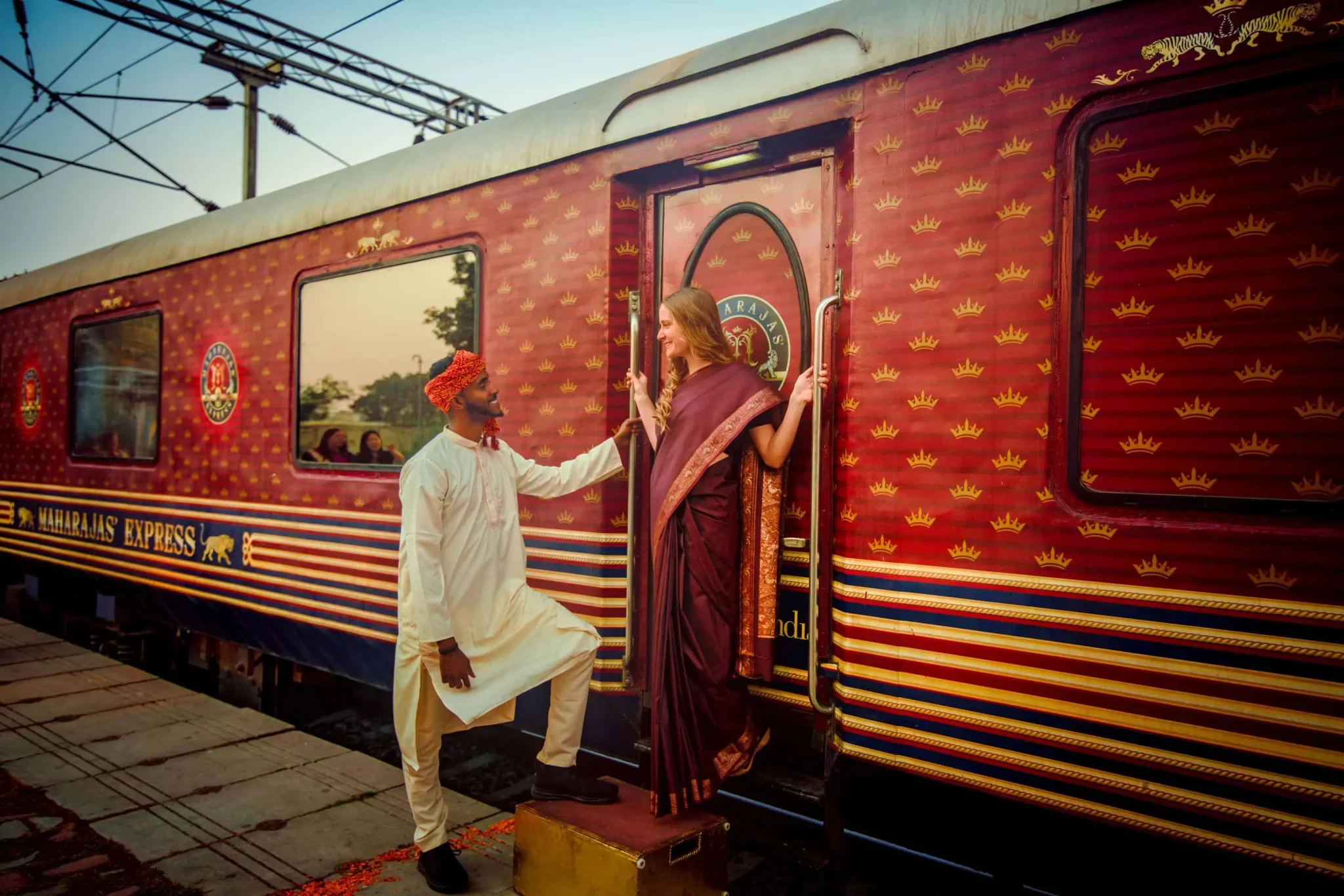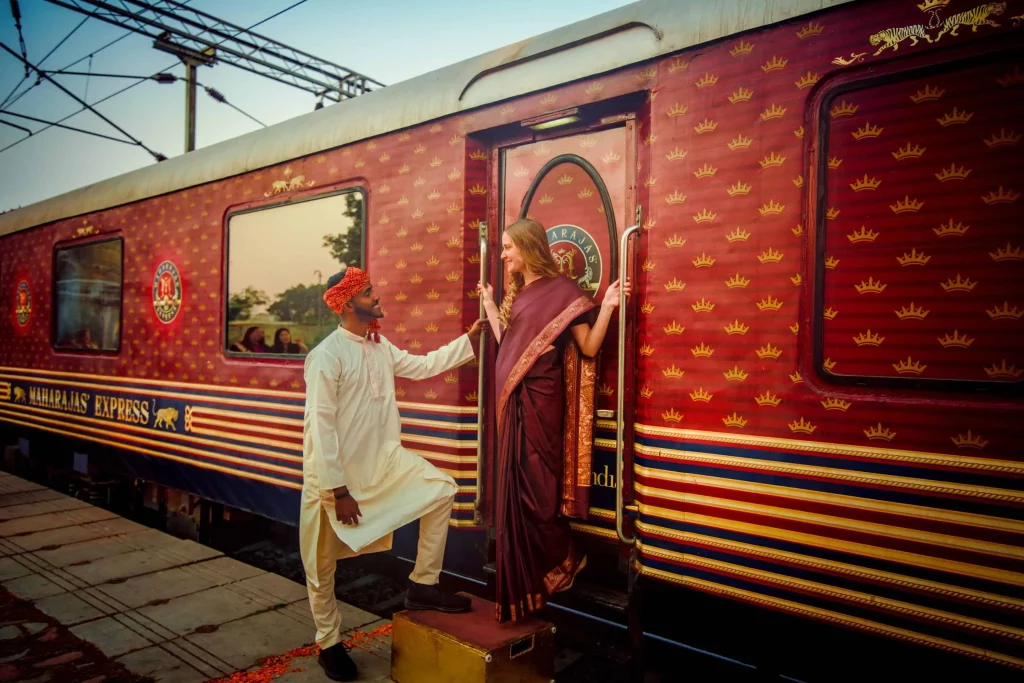 The Maharajas' Express luxury train is owned and operated by Indian Railway Catering and Tourism Corporation Limited, a Government of India Enterprise and also the professional hospitality and tourism arm of the Indian Railways.
Maharajas' Express commenced operation in 2010 and has been one of the most prestigious luxury trains in the world during the last 12 years of its operation. The train has carved a niche market for itself in the field of luxury tourism for its enriching journey experiences coupled with exquisite facilities onboard.
Facilities on board
The 23 carriage long train houses four different types of accommodation viz. Deluxe Cabins, Junior Suite Cabins, Suites and Presidential Suite. All cabins come with ensuite bathrooms. The cabins are provided with adequate wardrobe space and luggage holds. The ensuite bathrooms have 24 hours running hot and cold-water Supply. The Deluxe Cabins and Junior Suite Cabins have a WC and Shower Chamber The Suites have a bathroom with a WC and Bathtub. The Presidential Suite has two bathrooms one with a WC and Shower Chamber and the other with a WC and Bathtub. Maharajas' Express boasts of providing the most spacious cabins among all luxury tourist trains.
The carriages are named after semi-precious gemstones and the interiors of each cabin have been tastefully planned. All cabins of the same class, although same in terms of size and services, has different upholstery to give it a unique ap- peal. The Presidential Suite, which spans one full carriage has a living area with two bedrooms both having attached bathrooms. It has been given a Lotus Theme which is reflected in the hand painted ceilings, wall tiles of bathrooms, drapery and paintings.
The train has two restaurants having seating capacity of 42 each. One of the restaurants is called Rang Mahal literally meaning 'Palace of Colours'. This restaurant has a hand painted fresco ceiling showcasing the vibrant Colours of India. The other restaurant is called Mayur Mahal which is themed after the National Bird of India, Peacock. Each restaurant serves the same menus and guests can choose to sit in either of the restaurants. In addition to the restaurants, there are 02 Bar cum Lounges in the train. The Rajah Club and Safari Bar which serves a mix of House Pours and other international brands. The House Pours are included in the Package and select international Wines and spirits are on sale.
The train houses a full kitchen onboard which serves a mix of international and Indian cuisines. The menus changes daily and guests can make special dietary requests before commencement of the journey. Owing to its exquisite services, the train has been the winner for two consecutive years (2015 & 2016) of Seven Stars for the category "Luxury Hospitality and Life style Awards".
Maharaja's Express
The train offers four exquisite journey options:
Indian Splendour (6 Nights/7 Days): Starting in Delhi covering Agra, Ranthambore, Jaipur, Bikaner, Jodhpur, Udaipur and ending in Mumbai.
Heritage of India (6 Nights/ 7 Days): Starting in Mumbai covering Udaipur, Jodhpur, Bikaner, Jaipur, Ranthambore, Fatehpur Sikri, Agra and ending in Delhi.
Indian Panorama (6 Nights/7 Days): Starting in Delhi cover ng Jaipur, Fatehpur Sikri, Ranthambore, Agra, Orcha, Khajurano Varanasi and ending in Delhi.
Treasures of India (3 Nights/ 4 Days): Starting in Delhi covering Agra, Ranthambore and Jaipur and ending in Delhi.
Book Luxury Train Packages