Year after year, The Greek Isles is at the top of every list as one of the most popular cruise destinations in the world—and for good reason. There's no better way to explore the islands than by cruise. Life in the Greek Isles is laid back and relaxing. A vacation there should be, as well. Nothing puts a damper on a trip like the hassle of packing and unpacking your suitcase over and over, or the stress of missing the hydrofoil to the next island on your itinerary. When you cruise to the Greek Isles with us you can explore the entire region, and only unpack once. Enjoy incredible onboard amenities at night, and wake up feeling refreshed each day in a new, stunning Greek port.
1. SANTORINI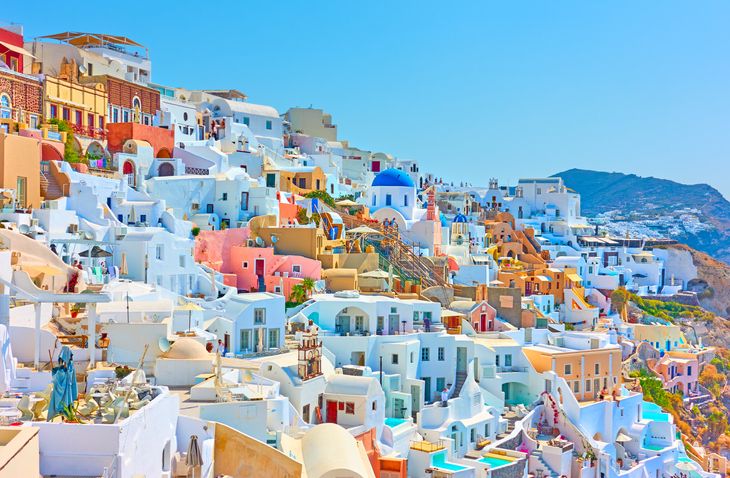 Island Group: Cyclades
Size: 90.6 km²
Famous For: Sweeping Views
Close your eyes and picture a Greek island. We bet Santorini comes to mind. It's a quintessential scene thanks to its beautiful whitewashed, cliffside villages, deep orange sunsets, and incredible panoramic views. It's not just one of the most photogenic places in Greece, it's one of the most photogenic destinations in the world. For the best photo-ops, head to the village of Oia. The ocean views, red volcanic sand beaches, blue-roofed buildings, and bright pink flowers are unparalleled.
Explore ancient vineyards, hike rugged volcanoes, sail aboard traditional Greek vessels, and more on our authentic Santorini shore excursions.
2. MYKONOS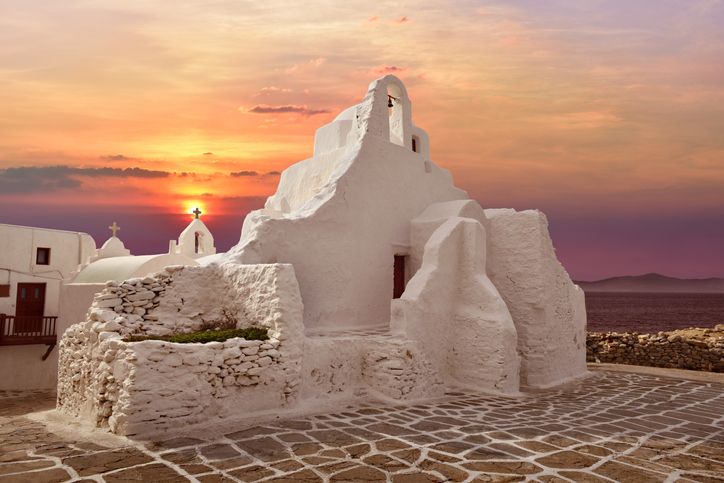 Island Group: Cyclades
Size: 105.2 km²
Famous For: LGBTQ-Friendly Travel
If Santorini has a competitor for "most famous Greek island", it's Mykonos. Mykonos is another postcard-perfect destination, with its gleaming white houses with brilliant blue shutters, vibrant bougainvillea, and spindly 16th-century Venetian windmills. It's known for being a friendly and popular LGBTQ travel spot, and has a vibrant nightlife scene you can soak in when the sun goes down thanks to our late-night departures.
When it comes to things to do on shore in Mykonos, you can keep it low key (but still super chic). Spend a day lounging at Elia Beach, dive into ancient history at Delos, or get hands on with a mosaic making class in a traditional kipos (open-air garden).
3. CRETE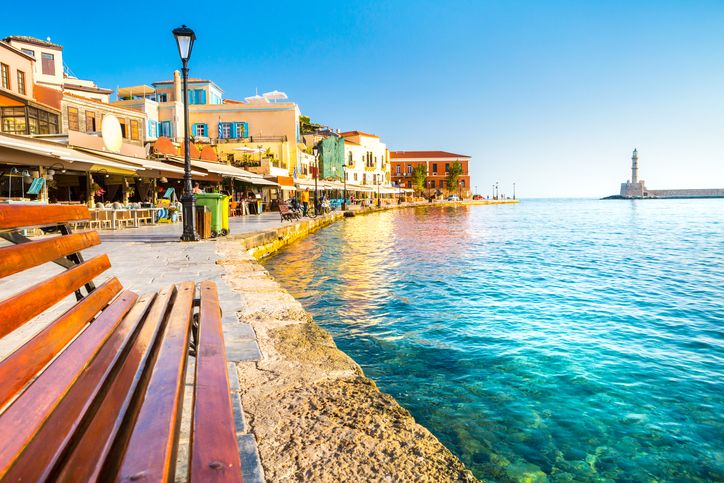 Island Group: Not Applicable
Size: 8,336 km²
Famous For: Great Food
Crete is the largest and most populous island in Greece. On the northwest coast, the ancient Venetian port city of Chania is fascinating with a mix of Greek, Venetian, and Ottoman influences. It's also an ideal travel destination for foodies. Think fresh, local produce, unique Cretan cheeses, and famous local olive oil. Experience that takes you to the bustling Agora Market to shop, a winery to sip, and back to the ship to savor a dinner created with the local ingredients you found.
Chania is also a perfect gateway for exploring other parts of the island. Shore excursions from this port can take you to local villages, the ancient remains of Knossos Palace, local Cretan wineries, or the island's finest beaches.
4. RHODES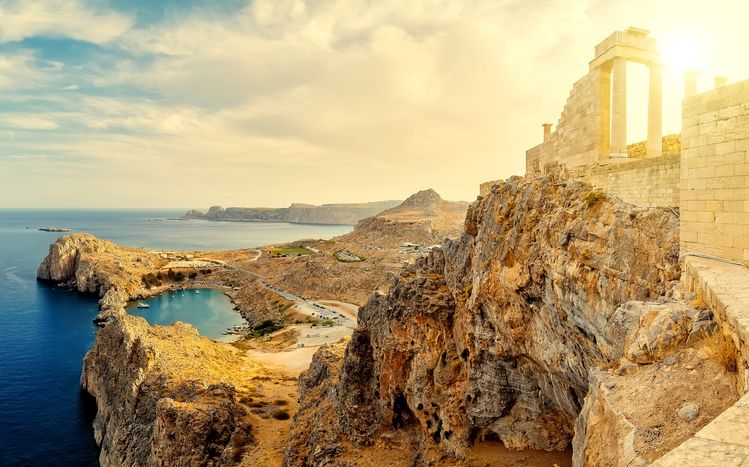 Island Group: Dodecanese
Size: 1,408 km²
Famous For: History
With a story spanning more than 10,000 years, Rhodes is a bucket-list destination for history buffs. It's the largest and most historically important island of the Dodecanese group, and one of the best-preserved medieval cities in all of Europe. The entire city-center is designated a UNESCO World Heritage Site. If everything ancient doesn't get you excited, don't fret—you'll still love Rhodes. With more than 300 days of sunshine per year, the beautiful Tsambika Beach is hard to resist.
In fact, there are plenty of ways to spend a day in Rhodes. In addition to exploring history or hitting the beach, our shore excursions include a Jeep safari and beach barbeque, a pottery workshop, and more.
5. CORFU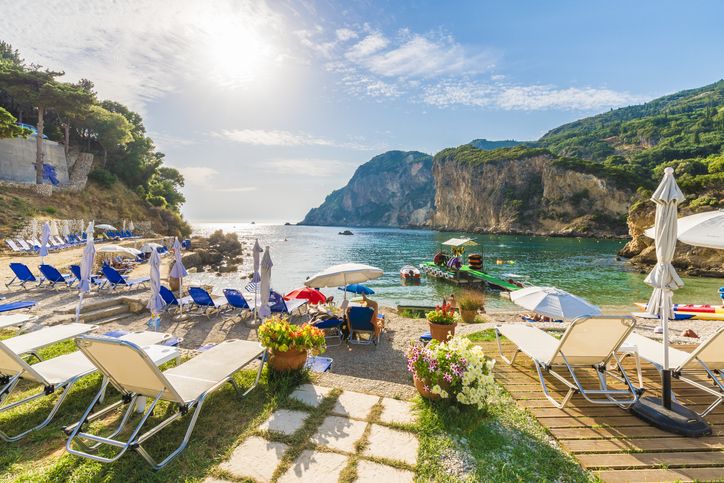 Island Group: Ionian
Size: 585.3 km²
Famous For: Family Travel
Corfu is one of a few islands rumored to have been the inspiration for Shakespeare's The Tempest. Once you've visited, it's easy to understand why. The island is downright magical, with sparkling turquoise waters, gentle breezes, and the smell of olives wafting through the air. Its atmosphere is undeniably romantic, and locals love to entertain.
The island lends itself well to being explored on foot. It's definitely worth venturing out to the countryside where unique villages abound, like the foodie's paradise of Agni, hard-partying Kavos, and genteel "Kensington-on-Sea"—an affectionate nickname referring to the wealthy West London tourists that make it their holiday home.
6. PATMOS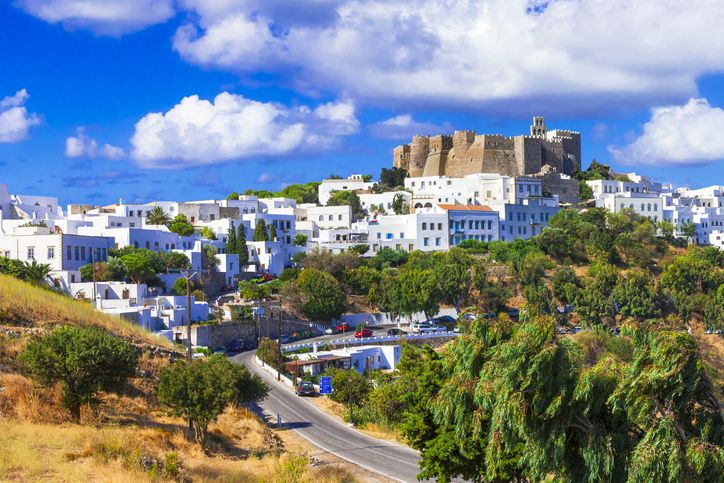 Island Group: Dodecanese
Size: 45.04 km²
Famous For: Religious History
Patmos may be small, but it's a place of importance in the Christian faith—it's where John the Apostle is said to have written the last book of the New Testament. If this piques your interest, visit the Cave of the Apocalypse, as well as the Monastery of Saint John the Theologian.
For less ecclesiastical excursions, spend the day soaking up the sun and savoring traditional cuisine at Agriolivadi Beach, or if you can't get enough cruising, explore remote islands on a traditional caique fishing boat.
7. DELOS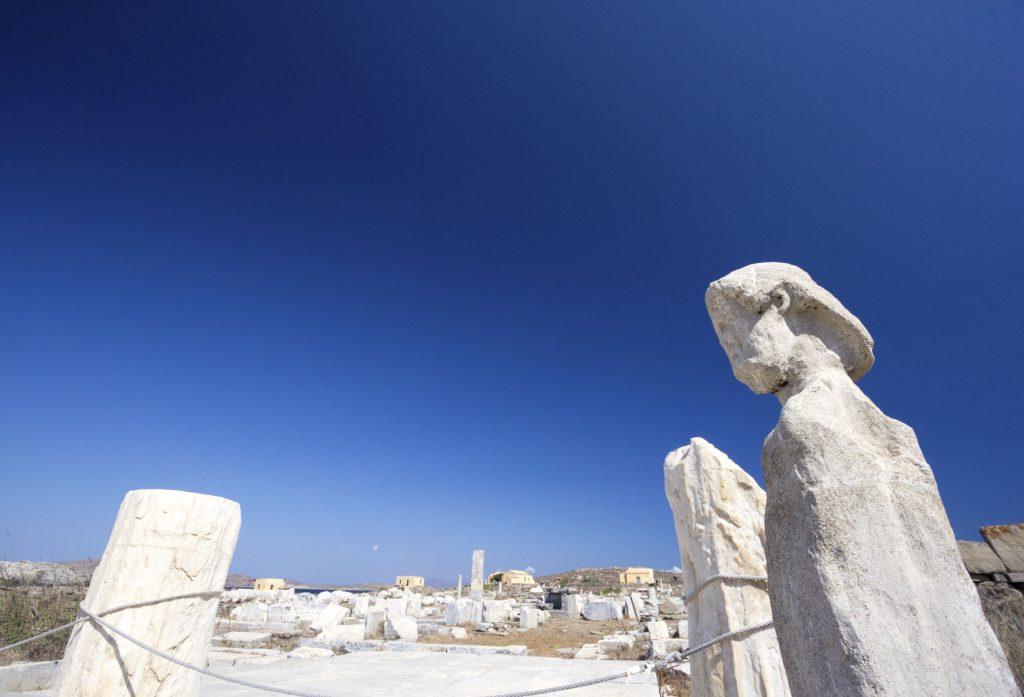 Island Group: Cyclades
Size: 3.43 km²
Famous For: Ancient Ruins
At less than four square kilometers, Delos is tiny. But when it comes to history and ancient ruins, it sure packs a punch. The island has a UNESCO World Heritage distinction thanks to its impressive archaeological site. The remains of Hellenistic-era temples, statues, a theater, and more make the island a must-visit destination. While it's not possible to stay on Delos, it's easily accessed from Mykonos. Guests can visit during a shore excursion that takes you up close to the Temple of Apollo (legend says he was born here), elaborate mosaics, and an impressive outdoor theater.
8. SPETSES
Island Group: Saronic
Size: 22.2 km²
Famous For: Revolutionary History
During the 1821 War of Independence from the Ottoman Empire, the Greek revolutionary flag was first raised here. Rich in naval history, Spetses is a favorite getaway for the elite of Athens, but still retains all of its authentic island charm thanks to its ban on cars in the town center. Yachts moor alongside traditional fishing boats and horse-drawn carriages are the preferred mode of transportation.
If you're in search of paradise, you'll find it at Vrellos Beach—that's what the locals call it anyway! Surrounded by a dense pine forest, it's the perfect starting point to follow a walking trail up to Profitis Elias. It's the highest point on the island and offers sweeping views in all directions
9. SKIATHOS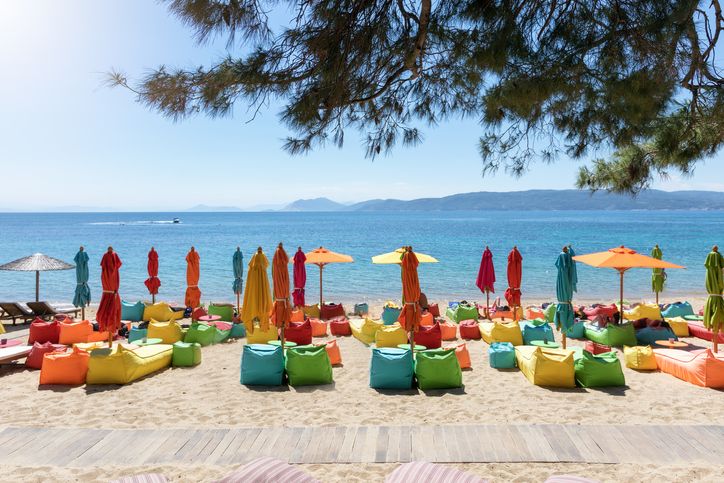 Island Group: Sporades
Size: 49.9 km²
Famous For: Beaches
Skiathos may be the Sporades' smallest island, but it is one of the most popular with jet-setters for shopping, swimming, and sunbathing. It's famous for its incredible beaches (of which there are more than 60 packed into just 27 miles of coastline), which have pristine white sand and dazzling turquoise waters.
If you don't consider yourself a beach bum, Skiathos has plenty more to offer. Make your way to Kastro, a 16th-century medieval town. Overlooking the town is Chlemoutsi Castle, a well-preserved fortress and castle that dates back to the early 1200s.