India is the birthplace of yoga, a spiritual and physical practice that has been around for thousands of years. Yoga is more than just a form of exercise; it is a way of life that promotes harmony, balance, and wellness. If you are looking for a place to deepen your yoga practice, learn from experienced teachers, and connect with like-minded people, you might want to consider visiting one of the many yoga retreats in India.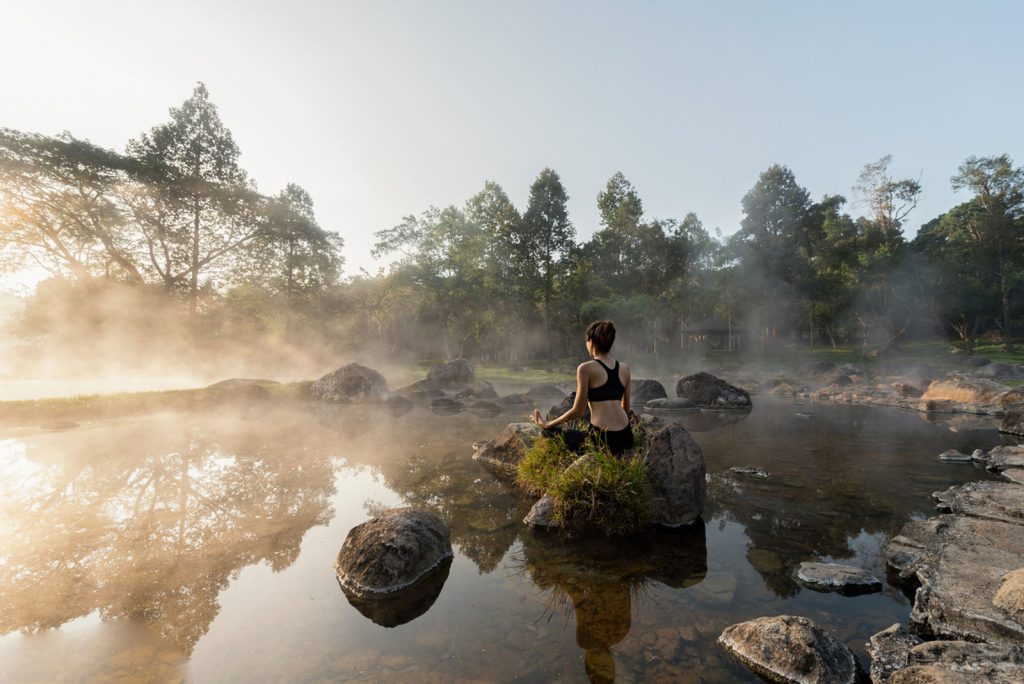 Yoga retreats are places where you can immerse yourself in yoga and meditation, enjoy healthy vegetarian food, and explore the rich culture and nature of India. There are yoga retreats for all levels, budgets, and preferences, from luxury resorts to simple ashrams. Here are some of the top yoga retreats in India that you can choose from:
Ananda in the Himalayas
This is one of the most luxurious and renowned yoga retreats in India, located in the foothills of the Himalayas near Rishikesh. Ananda offers a holistic approach to wellness, combining yoga, meditation, Ayurveda, spa treatments, and personalized programs. You can stay in elegant rooms or suites with stunning views of the mountains and valleys, and enjoy a variety of activities such as hiking, rafting, golfing, and cultural tours. Ananda is ideal for those who want to experience the best of both worlds: comfort and spirituality.
Sivananda Yoga Vedanta Dhanwantari Ashram
This is one of the oldest and most authentic yoga retreats in India, founded by Swami Vishnudevananda in 1959. The ashram follows the teachings of Swami Sivananda, one of the most influential yoga masters of the 20th century. The ashram offers daily yoga classes, meditation sessions, lectures, workshops, and courses on various aspects of yoga and Vedanta philosophy. You can stay in simple but comfortable rooms or dormitories, and eat delicious vegetarian meals prepared with organic ingredients. The ashram is located in a serene setting surrounded by lush greenery and hills near Trivandrum in Kerala.
Purple Valley Yoga Retreat
This is one of the best yoga retreats in India for those who want to learn or deepen their practice of Ashtanga yoga, a dynamic and challenging style of yoga that synchronizes breath and movement. The retreat is run by certified Ashtanga teachers who offer daily classes, workshops, and individual guidance. You can stay in cozy cottages with private bathrooms and balconies, and enjoy healthy vegetarian food cooked with fresh local produce. The retreat is situated in a peaceful valley near Anjuna beach in Goa.
Kaivalyadhama Yoga Institute
This is one of the oldest and most respected yoga institutes in India, established in 1924 by Swami Kuvalayananda. The institute is dedicated to scientific research and education on yoga and its therapeutic applications. The institute offers various courses and programs on yoga, meditation, pranayama, Ayurveda, naturopathy, and other related disciplines. You can stay in spacious rooms or cottages with modern amenities, and enjoy nutritious vegetarian food served in a dining hall. The institute is located on a sprawling campus with gardens, ponds, and temples near Lonavala in Maharashtra.
Parmarth Niketan
This is one of the largest and most popular yoga retreats in India, located on the banks of the holy Ganges river in Rishikesh. Parmarth Niketan offers a wide range of yoga classes, workshops, courses, festivals, and events for all levels and interests. You can also participate in daily rituals such as puja (worship), aarti (fire ceremony), satsang (spiritual discourse), and kirtan (devotional singing). You can stay in clean and comfortable rooms with attached bathrooms and balconies overlooking the river or the mountains. Parmarth Niketan is a great place to experience the vibrant spiritual energy and culture of Rishikesh.
Carnoustie Ayurveda and Wellness Resort
If you want to experience the healing power of Ayurveda, Carnoustie is the place for you. This award-winning resort in Kerala offers authentic Ayurvedic treatments, yoga sessions, meditation classes, and organic vegetarian meals. You can stay in spacious villas with private pools and gardens, and enjoy the serene atmosphere of the Marari beach. Carnoustie has a team of qualified doctors and therapists who will design a customized plan for your health and wellness goals. You can also join cultural activities, such as Kathakali dance performances, temple visits, or backwater cruises.
Shreyas Retreat
Shreyas Retreat is a boutique resort that offers a holistic approach to yoga and wellness. Located near Bangalore, Shreyas Retreat has 12 cottages set amidst 25 acres of lush greenery. You can practice yoga in an open-air pavilion or an indoor studio, and learn from experienced teachers who will tailor the sessions to your level and needs. Shreyas Retreat also offers meditation, pranayama, sound healing, Ayurveda, naturopathy, and spa treatments. You can enjoy delicious vegetarian meals made from organic ingredients grown on-site. Shreyas Retreat also organizes community service projects, such as teaching English to local children or working at an organic farm.
SwaSwara Resort
SwaSwara Resort is a place where you can reconnect with your true self and nature. Located on the pristine Om beach in Karnataka, SwaSwara Resort offers a blend of yoga, meditation, art therapy, Ayurveda, and healthy cuisine. You can stay in spacious villas with private courtyards and balconies overlooking the Arabian Sea. You can practice yoga on the beach or in a hilltop yoga shala, and meditate in a meditation dome or under a banyan tree. SwaSwara Resort also has an Ayurvedic center that offers personalized consultations and treatments. You can also indulge in creative activities, such as pottery, painting, or cooking.
Somatheeram Ayurveda Resort
Somatheeram Ayurveda Resort is a pioneer in offering Ayurvedic treatments and yoga in India. Located on a hilltop overlooking the Kovalam beach in Kerala, Somatheeram Ayurveda Resort has traditional cottages and bungalows with modern amenities. You can choose from different Ayurvedic packages, such as Rejuvenation Therapy, Body Purification Therapy, Stress Management Therapy, or Slimming Program. You can also practice yoga and meditation with qualified teachers who will guide you according to your body type and constitution. Somatheeram Ayurveda Resort also has a cultural center that showcases classical dance and music performances.
Book Top Yoga Retreats in India